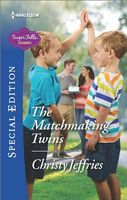 Series:
Sugar Falls Idaho
(Book 4)
Double The Trouble
Parenting is hard enough when Dad has to be a mom, but widower Luke Gregson has twins -- boy twins, Aiden and Caden. As a navy SEAL, Luke saw plenty of action, but nothing could prepare him for trying to raise two eight-year-olds alone. Parenthood is not for sissies. Maybe that's why the boys have set their eyes on a certain new candidate for Mommy…
Officer Carmen Delgado seems tough enough to handle anything -- including Aiden and Caden! She adores the rascals. Her feelings for their heroic father, however, are complicated, and her tragic past has her heart on a seemingly permanent lockdown. Could two mischievous, persistent boys and their overwhelmed, sexy daddy be the ones to finally set Carmen free?
Good book. We first met the twins and Luke in his brother Drew's story (
Waking Up Wed
). Various family members have been taking care of the boys after their mother's death and while Luke has been deployed with the SEALs. Now that Luke has been transferred to recruiting duty, it's time for him to resume parenting duties. He is rather overwhelmed by it all.
Carmen has been participating in a mentoring program through the police department, and has been taking the boys after school one day a week when Luke has to work late. Carmen is a former Marine and also comes from a large family, so the twins are no problem for her.
The bigger challenge for both Carmen and Luke is their feelings for each other. Carmen is attracted to Luke, but a past failed relationship and the reasons for it, have her believing that there is no happy future in store for her. But she still longs to be seen as a woman with needs of her own. Her feelings are so conflicted that whenever she's around Luke she tends to give off really strong "don't touch" vibes. At the same time she is frustrated because he seems to see her as just one of the guys. Luke is intrigued by Carmen. He's impressed by how good she is with his kids and would like to get to know her better, but he keeps getting the feeling that she doesn't like him. Because of their shared military background, he frequently tries to use that as a way to connect, usually unsuccessfully. He gets a real eye opening surprise when he sees her in civilian clothes and realizes what an attractive woman she is,
I really enjoyed the development of their relationship. The twins are the catalyst that brings them together. It was great fun to see all the antics that they got up to and how each time brought Luke and Carmen closer. The incident on the river had the sparks flying between the two as their bodies sat up and took notice. Then the meltdown at school brought them together as they tried to find out what had set Caden off. I really enjoyed their teamwork as they prepared for the twins' birthday party. Luke's panic was pretty funny to see, and I loved the way that Carmen took charge and walked him through it. It was at this point that both of them start thinking about "what ifs". But Carmen is under the impression that Luke is still grieving for his wife and there's no way he'd be interested in her. Plus she has that other issue that makes her believe that Luke wouldn't want her anyway. For his part, Luke is still beating himself up over his belief that he'd been a terrible husband and that trying again would be a bad idea. Once again, it is the twins who bring them back together at the baseball tournament, giving them the chance to finally face their fears. I loved seeing them finally communicating (some of that communication was quite steamy) and realizing that they are meant to be together. I loved the arrival of the twins the next morning and their reaction. The epilogue was awesome, with the truth of the boys' antics coming out at last.
I'm looking forward to seeing who is next to fall in Sugar Falls.