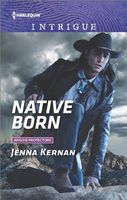 Series:
Apache Protectors
(Book 4)
HERITAGE OR HEARTBREAK?
Apache tribal counsel member Clyne Cosen needs the FBI's protection. But having Agent Cassidy Walker as his personal bodyguard presents its own dangers. His involvement in the custody battle for Cassidy's adopted Apache daughter muddled the lines between personal and professional. Now he has feelings for a woman who was not native born.
Cassidy will do her job at any cost. But being so close to Clyne means the FBI agent sees him as more than just the man who could take her daughter -- he might also steal her heart. Duty. Desire. Which path will Cassidy take…or will a bullet make that decision for her?
Good book and conclusion to the series. Questions from previous books are answered and a little girl's future is resolved in a way that no one expected. Clyne is the oldest of the Cosen brothers, a member of the tribal council, and very vocal about his vision for his people. Cassidy is an FBI agent working a drug case on the reservation, and has also been assigned as his bodyguard when he leaves the rez.
There are some serious conflicts between the two. Clyne doesn't like having federal officers on the rez, and he really doesn't like having one dogging his steps. What is worse, is that Cassidy is the woman who adopted his little sister, and is resisting the family's attempts to regain custody. All Cassidy can see is the man who is trying to take her daughter, the only family she has left. Being this close is the last thing she wants, but she'll do her job.
I liked Clyne and Cassidy, but both had their blind spots. All Cassidy can see when she thinks of Amanda going to live on the rez is the crime, the poverty, and other negatives. She doesn't consider the importance of her knowing her birth family or the culture she was born to. She is determined to make sure that Amanda chooses her, and then plans to move far from Arizona. Clyne is proud of his heritage, but is focused on keeping all white influence off the rez. He only see the bad things that have come to the Apache because it. He hates the idea of Amanda being raised by a non-native, and only thinks of his desire to get her back to the family. He doesn't consider that she will have lost the only mother she's ever known, all her friends, and have to live with complete strangers.
I enjoyed the development of their relationship. There were sparks between them from the beginning, both professional and personal. The attraction that flared between them annoyed them both. Cassidy couldn't believe she was attracted to a man who was trying to take her daughter, and who made his disdain for whites very obvious. Clyne wasn't happy to be attracted to a white woman at all, as he has been vociferous in his belief that native should only marry native. When Cassidy was ordered by the court to allow Amanda to live with the Cosens for six months, she was heartbroken and desperately worried. I really liked seeing both of them begin to open their eyes to their own prejudices and see how harmful it was. Spending as much time together as they were forced to, the sparks between them grew hotter. Clyne's attitude that she was fine to sleep with, but not have a relationship with really bugged me. When they finally gave in to the heat, the strength of it freaked them both out. Both tried to fight it, but eventually couldn't deny it. I loved the ending and seeing Clyne put his own happiness ahead of other peoples' expectations for a change. I really liked his big moment, right there in the middle of the street.
The suspense was good, though not as intense as in some of the previous books. An attack at one of the rallies put Cassidy and Clyne in danger, emphasizing the need for protection. The question arises as to whether it was Clyne or Cassidy that was the target. I liked following the investigation to figure it out. When the bad guy takes Amanda hostage, things got really scary really fast. I loved Cassidy's determination to rescue her daughter, no matter what. An important part of the final confrontation was seeing Clyne face his demons to become part of the solution. It was definitely exciting to see it all go down.
I loved learning more about the Apache traditions. It all felt like an integral part of the story, not an information dump. I liked seeing Amanda take to learning about her background, and the fact that Cassidy learned a lot right along with her. The epilogue, with the description of the Sunrise Ceremony, was wonderful. I especially liked the last little bit about the corn pollen.