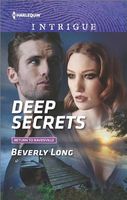 Series:
Return to Ravesville
(Book 4)
Agent Rafe Roper has come back from the dead to protect the only woman he's ever loved
Fate brought Rafe Roper into Trish Wright's café one stormy night. Unfortunately, their storybook romance ended far too soon when an accident took Rafe's life…and broke Trish's heart. But what his wife doesn't know -- can't know -- is Rafe "died" in order to protect her from the criminals he's pursuing. But taking down these particularly nasty terrorists goes from undercover mission to personal vendetta once Trish's life is put on the line. Now that his innocent bride is caught in the crosshairs, Rafe has no choice but to expose his lie and hope she forgives him. Otherwise, without her trust, they'll both wind up dead. This time for real.
Terrific second chance story. The book opens with Trish remembering her life with her husband, and that this is the fourth anniversary of his death. She thinks back to how they met, and the short time that they had together. Her friend Milo, the cook at her diner, tries to cheer her up by offering to take her to a movie. About that time, Trish's twin sister arrives home early from her honeymoon, knowing how hard today will be for Trish. Then Milo is stabbed and left for dead outside the diner, his last words "Tell Rafe they know" driving a stake through Trish's heart. Desperately needing to get away, she takes her dog and heads to a rental cabin in the Ozarks.
While there, she is attacked, and tied up, her dog is shot, and her captors tell her that she is the means to an end. What she doesn't know is that Rafe is actually still alive. He had faked his death to protect her from the terrorists he is trying to bring down. When he finds out what happened to Milo, he's on the first plane back to Missouri to make sure that she's ok. Only to find out that she's missing and no one knows where she is.
I liked both Trish and Rafe. Their initial romance had been fast, with Rafe giving up his undercover life for her. But his belief that he could walk away was shattered when his former team members were murdered, and he knew he would be next. I liked the protectiveness that had him taking such extreme measures to keep her safe. I thought that Trish had been a little naive about him, as his paranoia about everything having a place and reactions when they weren't should have been a clue. I felt for her grief over his death, and how hard it has been to get past it. I really liked the way that she kept her head pretty well when the bad guys tied her up. Her mind was actively trying to find a way to escape. Her shock at Rafe's appearance was understandable, and I rather liked that she didn't just fall all over him.
I really enjoyed the steady buildup of the tension and action in the book. From Rafe's first inkling that something was wrong, he had a plan all ready to go. I loved his attention to detail. His involvement of Summer's husband got him the information he needed to make a start at finding Trish, and I enjoyed seeing how he did it. The number of bodies he found made him increasingly worried about her safety. Once he found her and got her away, the next steps were to end the threat. I loved seeing Trish's strength of will in convincing Rafe to give her a key role. The buildup to the final confrontation at the lake was nervewracking, and I couldn't read fast enough to find out what happened. Just when it looked like all was well, there was an unexpected twist that put her back into danger. Definitely a heartpounding conclusion.
The repair and renewal of Rafe and Trish's relationship wasn't a smooth or easy thing. Trish was understandably angry at being left to suffer for four years, believing Rafe to be dead. She did get a little bit of revenge by letting him know that she had started dating again. I loved seeing how Rafe hadn't been able to stay completely away, and had taken periodic trips to Ravesville to watch her. Being together again made it obvious that neither had stopped caring, but that they did have to find a way to overcome the past before they could have a future. I liked seeing how they did it. There was also a really sweet surprise at the very end.