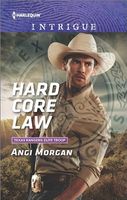 Series:
Texas Rangers: Elite Troop
(Book 4)
HE'D BREAK THE LAW TO GET HIS KIDS BACK
The twins were all Josh Parker had in this world. So when they were kidnapped, he couldn't rely on his Texas Rangers star to get them back safely. Or involve Tracey Cassidy, the only person he trusted to care for his children. A family of criminals was asking him to break the law if he ever wanted to see his children again. But when Tracey caught wind of his plan, she knew no matter how big Josh's heart was, he had a future with his twins to look forward to. They needed their father. And this was one burden he wouldn't have to shoulder alone.
Good book and conclusion to the series. As the commander of Company F, we've seen Josh in the previous books, as he supports his Rangers' sometimes unorthodox methods of getting things done. He has also been seeing them fall to Cupid's arrows, one by one, making him realize what has been missing in his life. It's been four years since his wife's death from cancer, and he's finally ready to move on.
Tracey was hired when the twins were babies, to help with them and with Gwen. She quickly became a friend as well as caretaker to the kids (don't call her a nanny - she HATES that!). After Gwen's death, she remained to help Josh with the kids. Now that she has finished her doctorate, she knows it is time to move on with her life. She's in love with Josh, but doesn't believe he feels anything but friendship. Though the thought of leaving hurts, she has to do it.
The excitement begins when an accident is staged as a setup to kidnap Josh's kids. The bad guys want something from Josh and only by holding his kids hostage can they ensure that he will cooperate. There is an added complication, in that Josh's son is diabetic, and needs to be monitored at all times. It's a harrowing situation and Josh is determined to do whatever necessary, even if it means going against the FBI and his fellow Rangers.
I liked how Tracey kept a calm head and was determined to be there for Josh. It was interesting to see the kidnappers include her in their demands, and how she and Josh dealt with it. The reason was clear early on, and I liked that she didn't hesitate for a second in agreeing to their demands. Tracey is very observant and clever, and tries to find a way to get herself and the kids away.
As the book goes on, the danger increases as the bad guys force Josh and Tracey to play their parts. There is some chaos as the bad guys' plans don't always go the way they want, and Josh tries to capitalize on it. The final confrontation was intense, as time was ticking for Jackson's condition, and Tracey came under additional danger. I loved how it all came together in the end.
There wasn't a whole lot of chances for romance, as Josh and Tracey were apart for most of the book. However, we do discover that each has feelings for the other, though they hadn't shared them. As they had known each other for four years, there has been plenty of time to develop the trust, loyalty and respect, as well as love, that they have for each other. There are a few steamy kisses that give them the hope that their feelings are returned, but no time for anything more. I loved Josh's big moment at the end, and the help he had for it.
The only disappointment I had was at the very beginning. Josh had thrown a birthday party for Tracey, inviting his coworkers and their ladies. I got the impression that they had treated her more as the help than as an important part of Josh's household, which made me sad.