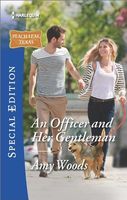 Series:
Peach Leaf Texas
(Book 4)
LOVE ON FOUR PAWS
Readjusting to civilian life has been a struggle for former army medic Avery Abbott. Home in Peach Leaf, Texas, for two years now, she still struggles with her worsening PTSD. And then a shaggy mutt named Foggy -- and devastatingly handsome dog trainer Isaac Meyer -- change everything.
From the moment Isaac finds beautiful Avery scared and shaking on a rural country road, suffering from a heartbreaking flashback, he feels a connection to her he can't explain. Is it her bruised and battered heart? Her easy affection for the therapy dog he finds to help her? Isaac is unsure, but he vows to help her rebuild her life. What he doesn't expect is that the sensitive veteran he has rescued is going to rescue his own heart right back…
Very good book. Avery has come home after serving as a medic in the army. She suffers from survivor's guilt after losing her best friend, plus flashbacks and nightmares from everything she experienced. She lives with her brother and his family and works on their farm during the day, and tries to hold it together at night. One night she awakens after one episode to find herself in a ditch on a country road. Isaac and his dog Jane find Avery that night. He is immediately drawn, not just to her beauty but also to the spirit he senses under all her pain.
I really liked both Avery and Isaac. He is a sweet and sensitive man who is happy with the place he has found in his life, but he is looking for more. Having grown up in a less than happy household, he has dreams of making his own family with a woman he loves, giving his children the kind of life he didn't have. He carries some guilt of his own, having lost his older brother to PTSD induced suicide. In his work now, he tries to match veterans with dogs that can provide the kind of help his brother needed and didn't get. I loved the way that he recognized what was happening to Avery the night they met and was able to help her through it. He recognizes his attraction to her, but initially tries to resist, believing that she's not ready for a relationship.
Avery is hurting and feels like a burden to her brother and his family. She also feels like a hollow shell of her former self, but doesn't know how to overcome it. I liked the way that she tried to do everything right, from attending her therapy sessions to avoiding the alcohol that she fears could become a crutch. She is wary of Isaac when she first meets him, but is soon drawn to his kindness and matter-of-fact acceptance of her issues.
I loved the development of their relationship. They connected quickly, thanks to their unorthodox meeting. Thanks to his familiarity with her issues, Isaac is determined to help her the way he hadn't been able to help his brother. I really enjoyed his happiness at bringing together Avery and the dog Foggy. Working with the dog brought them closer together and the attraction between them grew. Things go along quite well until Avery has an episode that runs up against one of Isaac's fears. His outburst was hurtful to Avery and caused her to question what they felt for each other. Isaac has to face his own fears or risk losing the happiness he's found with Avery.
I really liked having a story with a female vet who has issues instead of the usual male vet rescued by the love of a woman. I loved the use of the dogs and seeing what a difference they made. I especially liked that Foggy wasn't the usual lab/German shepherd/ golden retriever type of dog, and was a rescued from a shelter, mutt variety of pooch. Both dogs were adorable. I also liked the added bit with the local merchant who wanted to help, and his reasons for doing so.