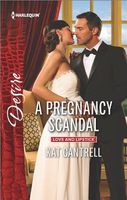 Series:
Love and Lipstick
(Book 2)
They married for the sake of the baby. Will they stay together for love?
Widowed power player Phillip Edgewood's political ambitions demand he have a wife -- they don't demand he love her. It's a good thing, too, because his heart belongs to the perfect wife he lost. But finding a woman who will say "I do" to his deal proves difficult. Until he meets Alexandra Meer -- the sexy CFO he can't resist. She doesn't believe in happily-ever-after, even after their amazing night together. And now she's pregnant with his child! A marriage of convenience should end the scandal and solve all their problems…as long as they don't fall in love…
Very good book. Phillip and Alex have been working together on a project for her cosmetics company. They are attracted to each other, and finally give in to that attraction for one night. A month later Alex discovers that she's pregnant and goes to Phillip with the news. Phillip has been looking for a wife that can meet his political requirements without expecting more than he can give. Marrying for the sake of the baby may be just what he needs.
Phillip lost his wife in an accident two years earlier. She had been the love of his life and he believes that it was a once in a lifetime love. He knows he needs a wife if he's going to go further with his political ambitions, but he can't offer a woman his heart. Alex doesn't believe that love lasts. She still carries the scars of her parents' divorce and its effect on her. Because of it, Alex has avoided relationships.
I enjoyed the development of their relationship, even though there were times I wanted to smack them both. Phillip and Alex had become friends while working on their project. There was also an intense attraction that neither one could deny. The night that Alex attended one of Phillip's parties, she stepped out of her comfort zone and dressed to seduce. She was charmingly awkward, but Phillip wasn't difficult to convince, and their coming together was explosive. But the connection that he felt to Alex freaked Phillip out, as it ran up against his self-imposed commitment to his dead wife. He ran back to Washington and buried himself in his work. Alex also felt the connection, but unfamiliar with feelings that deep, attributed it to the great sex. When she turned up pregnant, she knew she had to tell Phillip. She hopes that he will want to be involved as she knows what it's like to grow up without a father and she doesn't want that for her child.
Phillip is stunned by the news and immediately thinks about the effect of an illegitimate child on his plans. I was a bit bugged by his rather calculated solution and his determination to keep his feelings out of their marriage. Because she doesn't believe in lasting love, Phillip's logical approach appeals to Alex's fears. But neither one really thought about what the effect of living together would have on their intentions. Phillip really fights hard against what is happening to him. He tries insisting to himself that it is just the memory of the sex added to the prospect of the coming baby. He makes a few boneheaded mistakes in his treatment of Alex. She accepts the rules of their marriage, as rules are how she keeps her life in order. But she isn't a meek woman content just to support her husband, and there are some clashes between she and Phillip over their expectations. I liked seeing her stand up for her own career and life as she wants it to be. Alex's feelings toward Phillip start to grow and she realizes that she wants more than the convenient marriage that they had agreed on. She sees a change in his treatment of her and believes that he feels the same way. I ached for her when things didn't go how she thought they would. Phillip's blind adherence to his belief in only one love nearly cost him everything. I liked the fact that he had to work at it to convince Alex that his feelings were real.
There is a continuing thread involving a problem with one of their products at the company. Someone is causing trouble and they don't know who or why.