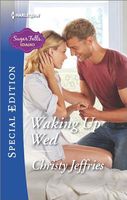 Series:
Sugar Falls Idaho
(Book 2)
THE BRIDE SAID, "I DID?"
Forget about her reputation. Kylie Chatterson is most definitely not that kind of girl. She's a conscientious CPA who has never even been with a man…that way. But when she wakes up in a Nevada hotel room after her friend's bachelorette party, the best man is in her bed…and he's wearing a wedding ring. And guess what: so is she!
For better or worse, Drew Gregson is now her husband. The hunky military psychologist doesn't remember the night any more than she does. Nevertheless, he seems in no hurry to end their impulsive betrothal. As she gets to know Drew and his adorable, squirmy nephews, Kylie has to remind herself this is all temporary -- and pretend. Or could it be the best mistake she ever made?
Good book with a really fun beginning. Kylie is the maid of honor for her best friend Maxine's wedding (
A Marine for His Mom
). When the groom's somewhat uptight best friend arrives for the bachelor/bachelorette party, Kylie offers him a drink to get him to relax a little. The next thing she knows she wakes up in bed with him and both of them are wearing wedding rings. Neither of them remember anything about how they got there.
Kylie has a reputation for being quite a flirt, dresses flamboyantly, and says what she thinks. But that is pretty much a front for a woman who really wants to find Mr. Right and have a family of her own. She still hasn't found the one she's ready to give herself to, and now she's married to a virtual stranger. She's determined to keep it quiet until they can figure a way out of it.
Drew is freshly arrived from overseas, ready to take up his job at the military hospital and his turn as guardian to his twin nephews while his brother is deployed. He's always kept his emotions under control and determined to be sure that a woman is right for him before making a commitment, and that the commitment will be for life. Finding himself married to a stranger who seems to be the exact opposite of everything he wants is disturbing to say the least. He'll go along with her desire to keep it quiet for now, but something in him says not to give up.
Their next encounter is the night of the rehearsal dinner, when he has his two rambunctious nephews with him. He's at his wit's end, but Kylie takes them in hand. Suddenly Drew is thinking that maybe fate hasn't played him so false after all, though Kylie is still keeping distance between them. Things get really interesting at the wedding reception the next day, when one too many snide comments from the town gossip has Kylie blurting out the news of their marriage. Now they have to follow through and play the part.
What follows is sheer fun, as both Kylie and Drew cope with the chaos that living with the twins brings to them. There is also the burning attraction between them that each tries to resist but end up giving in to. I loved seeing them get to know each other and discover that deep down, they weren't so different after all. I really liked the way that Drew soon understood Kylie and the way she reacts to things, and was sensitive enough not to push her where she didn't want to go. It was also fun to see the way that she was able to chip away at his control, making him a bit more relaxed. But they do have a bit of a communication issue, as neither will take the first step in saying that they want the marriage to become a real one, fearing the rejection that they are sure would be the result. Their own insecurities rear up when Drew's brother returns unexpectedly. The ending was really sweet as multiple people make Drew and Kylie realize they have to fight for what they want.
The secondary characters were terrific. The twins were adorable and perfectly portrayed. I ached for them and their fears when the reasons for their actions came out. I loved Kylie's dad, especially when the truth of his treatment of her came out. It was hysterical that everyone saw it except for her. I also really like Drew's brother Luke. Being Drew's twin gave him some extra insight into his behavior, and I loved the way he helped Drew through his crisis with Kylie. I'm really looking forward to his story.
My only complaint is the cover of the book. Kylie is a redhead, not a blond, and Drew wears glasses. I would really have liked to see those glasses on the cover model, as that is so unusual in a hero.