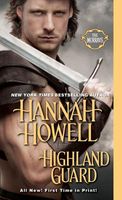 Series:
Highland - Murray Clan
(Book 22)
Lady Annys MacQueen has no other choice. The deception that enabled her to keep her lands safe is on the verge of being revealed by a cruel kinsman. To shield her young son from the sword and her people from devastation, she must turn to the one man she could never forget. . .
He lives for duty and honor. So the only way Sir Harcourt Murray could repay the laird who saved his life was to agree to father a child with Sir MacQueen's wife. . .Lady Annys. Now the passion he still feels for the lovely strong-willed widow is as all-consuming and perilous as securing her lands. But to convince her that his love is forever real means confronting her most wrenching fears--and putting everything they treasure most at stake. . .
Good entry into the Murray clan books. Harcourt and Annys had gotten to know each other five years earlier. Harcourt had been injured and left for dead then found by Sir David MacQueen who saved his life. In return, David asked Harcourt to father a child with his wife, as he needed an heir to his lands. It wasn't a difficult task, but Harcourt regretted the need to walk away when it was over. Five years later, Annys is in trouble. David has died and his cousin is determined to take the land. The only thing she can do is write to Harcourt and ask for his help. She worries that his arrival could expose the truth and put everything in danger.
I liked Annys. She had loved her husband enough to do as he asked, though there were plenty of guilty feelings that went with it. She does her best to protect her son and the land, but is also smart enough to know when she needs help. Harcourt's arrival throws her emotions into turmoil, as she has never forgotten the way he made her feel.
Harcourt is an honorable man and did what he had to years ago. However, he has regretted walking away and has never forgotten Annys or her child. When he receives her plea for help, he can't say no. Seeing her again has reawakened his desire for her, and now that she's free, he wants her for his own.
I loved seeing the relationship grow between Harcourt and Annys. The feelings were already there, they just had to accept them. Annys's fear of the truth being revealed has her trying to keep Harcourt at a distance to protect them both. But they have to work together on the protection of the keep, and it isn't long before desire overtakes them. Annys's feelings for Harcourt grow, but she knows he will have to leave again and dreads the heartbreak that will follow. Harcourt wants Annys as a permanent part of his life, but he is committed to his other lands, and knows that Annys and her son Benet have to stay on theirs. His mind is constantly working to find a solution. That solution comes in an unexpected way and I loved seeing how it ended. It was sweet to see them finally share their feelings with each other.
The problem with Sir David's cousin attempting to take the land keeps the action going. Sir Adam is convinced that the land should be his and will do anything to get it. I enjoyed seeing the way that Harcourt and company foiled the early attempts. Things get really intense with the final confrontation. There is an interesting twist to the end of the battle, one that I suspected would happen but was wondering when and how. That twist has a huge impact on Annys and Harcourt's futures.
I really enjoyed the secondary characters. Harcourt's companions were all wonderful. Each one was unique and had his own special role. I'd like to see more of them, especially Callum, who I remember from an earlier book. I also loved Annys's friend/housekeeper Joan. She had a great way of helping Annys see what was most important. The sweetest of all was Annys's son Benet. I loved seeing things from his point of view and the things he got up to. His bits with the lamb Roberta, who is "not for the pot" were really fun to see.