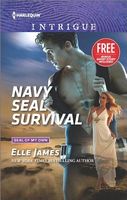 Series:
SEAL of Her Own
(Book 1)
A job only a SEAL could do
After feeling the heat in Honduras cleaning up a terrorist training camp, Duff Callaway is ready for some serious chilling in Cancun. Fun in the sun becomes a perilous rescue mission when the navy SEAL saves his beautiful diving partner from an underwater attack. Except Natalie Layne wasn't chosen at random.
Setting herself up as bait is the only way Natalie can find her abducted sister. But all her survival training can't prepare the former SOS agent for the irresistible stranger she has to trust with her life. Giving up isn't an option. Neither is giving into the powerful desire smoldering between them…
Very good book with lots of action and a good bit of heat. Duff and his three SEAL teammates are in Cancun taking some well deserved vacation time. He doesn't expect to get caught up in rescuing several young women from human traffickers.
Natalie was an operative for a covert agency until her parents were killed in an accident and she became guardian of her younger sister. Now her sister has disappeared while on vacation with friends in Cancun and Natalie is determined to find her. With the help of her former boss, Natalie sets herself up as bait to be taken by the same people.
Duff and Natalie meet in the bar as she is makes herself visible as a target. They are attracted to each other, but Natalie is intent on her mission and suppresses her interest in Duff. The next day they are dive partners when she is attacked and Duff comes to her rescue. Natalie is furious that her plan has been disrupted, and Duff confused that she mad about being rescued. Once he gets the truth out of her, Duff offers to help, with his teammates backing him up. The tension increases as another woman is nearly taken and Natalie and Duff ramp up their watchfulness. When Natalie and her new friend Kylie are taken during a tour of some ruins, it's up to Duff and friends to rescue them. This was really exciting and intense as we get both Natalie's point of view as she tries to figure out how to save them and Duff's, as the team and Natalie's coworker endeavor to get to them before it was too late. The final confrontation was fantastic with an interesting twist regarding one of the people there. I'll be interested to see if he shows up in another book. This story was wrapped up well, but there are still some unanswered questions.
I liked the development of the relationship between Duff and Natalie. There is heat between them, but also the realization that this isn't the time for distractions. Duff's protectiveness kicks in first, with the attack on Natalie, but his interest is further piqued when he finds out what she's up to. I liked the way that he appreciated her abilities and didn't try to override her plans. Natalie is somewhat distrustful at first, but that quickly goes away. I liked seeing them getting to know each other between the bursts of search activity. The ending has a feeling of realism as, rather than declaring unending love after just a few days, they acknowledge that there is something between them that has potential and that they want to explore it. I also like that each accepts the other's devotion to their job and its importance to them, as it bodes well for their future.