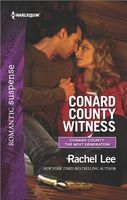 Series:
Conard County: The Next Generation
(Book 27)
I found you. The game begins. The note wasn't a threat exactly. But Jess McGregor senses danger. The wounded ex-soldier offers Lacy Devane a place to feel safe after her stint in witness protection. But someone is after her… Or is Jess the intended target?
Jess and Lacy are practically strangers. And the powerful attraction stirring between them may feel like a betrayal to Jess's late wife -- Lacy's closest friend. But as a big freeze envelops Conard County, the warmth and healing they find in their growing friendship will be put to the ultimate test by a deranged killer.
Good story. Jess and Lacy have known each other for a long time, through Jess's late wife. After Sara died, Lacy stayed in touch with Jess. He's the one she thought of when she needed a safe place to stay. So Jess invited her to stay as long as she needed, not expecting their friendship to grow into something more.
I really liked both Jess and Lacy. Jess has had it rough the last few years. Sara died while he was on deployment as a combat medic and he is still dealing with some guilty feelings because he wasn't there when she died. When he returned to the war he ended up badly injured and losing part of one leg. After his recovery he left the military and became a physician's assistant. Lacy had a good life and career in Dallas until she discovered her boss was laundering drug money. After going to the FBI about it, she ended up spending a year in witness protection until it was all over. Now she's dealing with the fallout and feeling like she's being watched.
There's a little awkwardness between Jess and Lacy when she first arrives. They soon realize that their friendship, up to now, has been fairly superficial, and that they want more. Because of what each has been through, opening up isn't something that is easy to do. Long conversations and a few outbursts of frustration deepen what is building between them. I liked seeing Lacy deal with Jess's insecurities about his injuries and how he worries about her reaction. Also, always present in their thoughts is Jess's wife Sara. He feels a bit odd at first, having feelings for his wife's friend, but seems to come to terms with them pretty quickly. Lacy has a rougher time, guilty about her feelings, but also worried that Jess only sees her as an extension of Sara. I loved seeing them confront their issues and deal with them together as they realized they wanted to move forward with each other.
The suspense of the story was really good. There's a little question at the beginning who the "hunter" is after, but that is revealed pretty quickly. There is tension throughout the story as Jess and Lacy feel the stalker's presence and experience his attacks. Glimpses of his viewpoint show his motivation and determination, as Jess and Lacy work to figure out who he is. The final confrontation was pretty intense with a very satisfying end. I loved Lacy's part in it.