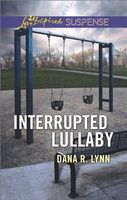 SAFE BY THE LAWMAN'S SIDE
Maggie Slade's been on the run since witnessing her husband's murder, hiding from a killer who wants evidence he believes she has. A killer who was dressed as a LaMar Pond policeman. And she'd better run fast, because it's not just her life on the line -- Maggie now has year-old twin babies. But then she's attacked again, and rescued…by a LaMar Pond cop. Trusting Lieutenant Dan Willis is frightening. Letting him take her back to LaMar Pond to find her husband's killer is terrifying. But to protect her babies, she'll risk anything. Even her life. And as she grows closer to Dan and learns to trust again…she may even risk her heart.
Very good book with enough action and suspense to keep me hooked to the end. Maggie has been living under an assumed name to keep herself and twin children safe, unable to trust anyone, especially the police. Her husband had been shot and killed by a policeman. For eighteen months she has managed to keep hidden, until the day she came home to find an attacker waiting for her.
Dan has spent months looking for Maggie. As one of the jurors in a case where they were being murdered (see
Presumed Guilty
), he has been concerned for her safety. When he checks out a tip about where she is, he arrives just in time to save her from the attacker. Taking her and her kids back to LaMar Pond is the only way to find out who is after her and why.
The suspense of the story builds in intensity as Maggie, Dan, and the others get closer to finding out who is behind the attacks. Things get really interesting when a secret about her husband is revealed. Though devastated by what she learned, Maggie is determined to do whatever is necessary to put an end to the threat. The final confrontation had me on the edge of my seat as Maggie struggled to survive and Dan raced to the rescue.
I really enjoyed the growing relationship between Dan and Maggie. After being on the run for so long, it is difficult for Maggie to learn to trust again. I liked the way that Dan understood that and was patient with her fears. Dan is a man that is haunted by things that happened in his past as a soldier. His guilt over one particular event has an effect on the protectiveness he feels toward Maggie and her children. I loved seeing how sweet he was with the kids, and how much he wanted to become part of their lives. There are things that happen that have him convinced that it is impossible. I loved Maggie's support and understanding as she learns of his fears. The realism of the ending, as Dan decides what he has to do to make a future with Maggie possible, was fantastic. The epilogue was really sweet.
The secondary characters were great. I loved seeing Jace and Melanie from the first book. Maggie's newly found half brother Seth was pretty adorable in his excitement in having a sister and a niece and nephew. I am very intrigued by Dan's boss and friend Paul. I hope that he gets his own story, as I suspect it would be a good one, given the hints that were dropped during this book.