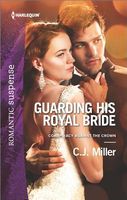 Series:
Conspiracy Against the Crown
(Book 2)
A king's secret daughter is swept into romance and danger in this tale of royal intrigue.
The ruler of Icarus is cunning and ruthless, yet Iliana Kracos has seen another side of Demetrius DeSante. And after an explosive night of passion together, she agrees to marry him. Yet when he reveals her true parentage -- she's heir to the throne -- it puts her bridegroom in a new light.
Iliana isn't sure how she can trust Demetrius. Does he truly love her, or is she merely a pawn in his royal game? But Demetrius assures he'll protect Iliana at all costs, and with a ruthless assassin targeting royal heirs, Iliana has no choice but to put her faith in the man she knows the least -- her husband.
Excellent blend of action, suspense and emotion. Iliana and Demetrius made their first appearances in the first book of the series,
The Secret King
. Iliana is cousin, friend, and secretary to Queen Serena, and Demetrius is president of Icarus and friend to Casimir the secret heir to a rival kingdom. They are drawn to each other in spite of their vastly different roles in life. In that book, Demetrius spends a lot of time cultivating a friendship with Iliana, though there is a definite feeling that he has ulterior motives.
At the beginning of this book, Demetrius has arrived at Iliana's home, determined to advance their relationship after their disagreement at the end of the previous book. He wants to protect her from the trouble he sees coming her way, and feels that getting closer to her is the way to do it. He arrives just in time to save her from an assassin, and whisks her off to his home on Icarus to ensure her safety. Their attraction to each other explodes into a passionate night together, and Demetrius talks Iliana into a quick marriage. Only then does he reveal his knowledge of her true background - that she is one of the heirs to the throne of a nearby kingdom. Iliana is no longer sure if he married her because he cares or because he needs her connection to the throne.
The relationship between Demetrius and Iliana becomes a rocky one. Iliana is well aware of his reputation as a cold and ruthless leader. She has seen him in action and knows that it is true. But she has also seen a more caring side of him. There are times when she believes that he really does care for her, but then he will do something that makes her feel that he is just using her. As she learns more about him, his background and his motivations, her feelings for him deepen. But if she can't feel that he wants her for herself, can she believe that they have a chance for a real marriage? Demetrius has spent most of his life keeping his emotions under tight control. Once he became president, he made careful, well reasoned decisions that brought the country back to prosperity. There is one driving goal behind almost everything he does and his relationship with Iliana is a huge part of it. Accustomed to keeping his thoughts and feelings to himself, he doesn't know how to deal with her demands that he actually talk to her. Her openness conflicts with his reticence and she isn't sure that their marriage can withstand it. It was hard to see him struggle with trying to figure out just what it is she wants from him. He wants to make her happy, he just doesn't know how to do it. By the time he figures it out, will it be too late?
The action and suspense of the story revolves around the death of the king of Valencia. Someone is attacking and killing his heirs, and no one knows who or why. As a previously unknown heir, Iliana is in line to receive a title that carries a great deal of power with it, and someone doesn't want her to live to get it. Demetrius is determined to protect her, both because he cares and because he needs her to use that power for his purposes. As the story progresses, secrets are revealed that have unexpected consequences. There are several possibilities for who is behind the assassination attempts, and the final revelation has some interesting twists.