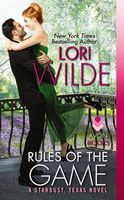 Series:
Stardust, Texas
(Book 2)
Just uttering the word "wedding" makes Jodi Carlyle break out into a cold sweat. So a year after she'd been dumped at the altar, and two days after turning the big 3-0, she decides to break some rules -- by dressing to the nines, hiring a limo,and crashing a swanky wedding . . .
. . . Where she catches the eye of the Dallas Gunslingers' new star hitter Jake Coronnado. He's hot. He's sexy. He sticks by her side all evening. He's the perfect fling. After a wild weekend, where they do everything and then some, Jodi thinks she'll never have to see him again . . . hey, she's even told him her name is Gwendolyn! But she thinks wrong.
Because guess who's the best man at Jodi's sister's wedding? And guess who's still as seductive as ever? And guess who's determined to turn their one-night fling into happily-ever-after?
Very good book, with two people who have some pain from their pasts to let go of before they can have the future they want. Jodi is the maid of honor at her sister's wedding, but the mere thought sends her into a mental freeze. A year ago she was left standing at the altar and getting past it has been a challenge. On the advice of her therapist she blings herself up and crashes a celebrity wedding in Dallas. Caught without the invitation she swiped from her future brother-in-law, she is saved from embarrassment by Jake, who makes her his date for the evening.
The attraction between them is instant and hot. Jodi has spent her life being the "good girl" and following all the rules. Indulging in a one night stand with a hot guy is not normal behavior for her, but she figures she'll never see him again. Jake has given up on casual hookups but something about Jodi has him ignoring that rule for this one night. He'd really like to get to know her better, but she isn't cooperating. After they part ways, neither has much luck in forgetting the encounter. Then Jodi is horrified to discover that her walk on the wild side is none other than the best man at her sister's wedding. That means she's going to have to work with him over the next few weeks, while keeping the truth from her family.
I liked Jake right from the start. He doesn't want a meaningless fling and tries his best to get to know Jodi. He can't stop thinking about their night together and is thrilled when he finds her again. Being with Jodi makes him feel alive again after the tragic death of his wife three years earlier. At first he isn't sure if he's truly ready for a new relationship, but the more time he spends with her, the happier he is. He knows that it will be a challenge to overcome Jodi's reluctance, but he is determined. I loved seeing him try to follow her rules while still pursuing her the way he wants to. He's sweet and protective and wants to take care of her. The only thing holding him back is the grief and guilt he feels over his wife's death. As he gets closer to Jodi, he opens up to her about his feelings, which helps him but creates some misunderstandings with her. I loved his big moment at the end, which was sweet and romantic and really funny, too.
Jodi is a bit of a complex character. Like her sisters, she was adopted, though she remembers her earlier life with a neglectful mother. Being adopted by the Carlyles was like a dream come true for her. She never wanted to do anything that would make them regret it, so she was always careful to follow all the rules. She also watched over everyone else. Making sure she had her life under control was very important to her, right down to the way she ate her food. When her fiance jilted her, it wrecked her self confidence and made her feel that she had lost control of her life. Her therapeutic crashing of the wedding was only supposed to be the wedding itself, not a fling with one of the guests. Her encounter with Jake affected her control in a way nothing had before, and it freaked her out. Having him show up in Stardust threatened her control all over again. I loved seeing Jake bring her out of the shell she has built around herself, as she slowly learns to let go a little at a time. Jake works his way into her heart, but she's afraid that his feelings for his late wife will keep him from loving her. I loved seeing her take the risk in the end.
Also as part of the story was Jodi's turn with the mysterious hope chest that was found in the first book,
Back in the Game
. Jodi finds a bottle of perfume that only she and Jake can smell. The chemistry between Jodi and Jake is hot, but that heat seems to burn even hotter when she wears it. There are a couple of really steamy scenes that come about because of it.
The secondary characters are also great. We get a little more of Breeanne and Rowdy from the first book. Rowdy is the catalyst to get Jake to Stardust as he tags Jake as his best man and also advises him about moving forward through his grief. Jodi's closeness with her sisters plays a big part also, as each of them has something to say about her relationship with Jake. Jake's friend and teammate Talbot is also present, with an attitude that is just begging for karma to catch up with him. I can't wait until it does!