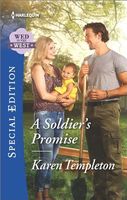 Series:
Wed in the West
(Book 7)
WHEN A PROMISE BECOMES A TEMPTATION…
Look after his best friend's widow and kids. It was a promise Levi Talbot was determined to keep. But returning to Whispering Pines, New Mexico, where he was once known as the local troublemaker, wasn't easy for the former soldier. Especially when gorgeous Valerie Lopez really wants nothing to do with him…and Levi can't get her out of his head!
Val knows she needs Levi's help -- her house is in chaos and she's juggling two young kids with a fledgling business. So she lets him take over the repairs -- but there's no way she's letting Levi make himself at home! Since her husband's death, Val has kept her heart locked away…but what if the handsome veteran next door is the key to her future?
Good book about two people who learn to live and love again after loss. Levi has come home after leaving the army. He's not sure what is next in his life, but he has a promise to keep in the meantime. His best friend was killed in the war and Levi had promised Tommy that he would look out for his wife and kids if anything happened. He wasn't one of Val's favorite people, so the promise was going to be a challenge.
Val is just trying to make it through one day at a time. She's living in a house that needs significant repairs, raising her two daughters, and embarking on a business as a baker. The last thing she wants is Levi hanging around, reminding her of what she's lost, but he won't stay away. So she agrees to let him do the repairs, but tries to keep him at a distance.
I really liked Levi. He had been a bit of a troublemaker as a kid, but never in a mean or dangerous way. Looking for direction, he decided to enlist, never expecting his recently married best friend to join him. He tried to talk Tommy out of it, but couldn't, and was filled with guilt when Tommy died. He doesn't have an easy time talking Val into letting him help, as he knows she holds him responsible. It soon becomes obvious that there's more than keeping his promise behind his actions. Levi has always had feelings for Val which is an additional motivator for what he does. Helping her out with her repairs has another benefit - it is giving him time to decide what he's going to do with the rest of his life. As more of his past is revealed and faced, Levi is able to move forward and see what he is meant to do. I loved the event that showed him what that was, as it once more showed what a good man he really is.
It took me a little longer to warm up to Val. She was a great mother and doing her best to move through her grief. But her attitude toward Levi really bugged me. He was nothing but nice and helpful and she treated him like he couldn't be trusted. Her attitude slowly changed as she realized how unfair she was being to him. She also had some unresolved issues about her relationship with her husband that she had to work through. I liked seeing her be able to talk about Tommy with Levi and how some of the things he said helped her see what she needed to do.
I liked seeing their relationship grow. Levi was sweet and persistent, doing his best to show Val that he was no threat. His feelings for her were always there, but he didn't think anything would come of them. I liked that he saw her strength even when she didn't. Val slowly began to see that Levi was very different than he had been before and that the new Levi was beginning to mean something special to her. But those growing feelings scared her and made her question things about herself. I liked Levi's patience as he let her work through her issues, though it certainly wasn't easy for him. I loved the ending, as Val's eyes and heart are opened.
I really liked the closeness of the families. Val gets the love and support she needs from her in-laws. I liked her mother-in-law's honesty and kindness as she helps Val work through her grief. She also plays a big part in getting Val and Levi together. Val's daughter Josie was adorable. She is important to the development of the relationship between Levi and Val. For a seven year old kid she has some pretty profound things to say to both her mom and Levi. I also liked Levi's family. The part with his mom about the steak was pretty funny. I loved seeing his relationship with his father change. I liked the scenes with his brothers and look forward to reading their stories.