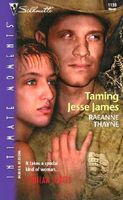 Series:
Outlaw Hartes
(Book 2)
Jesse James Harte had grown up as wild and untamed as his Old West namesake, but now he was the law in this stretch of the Wyoming high country. That meant trouble was his business -- and if he'd ever seen somebody in trouble, it was the town's new schoolteacher, Sarah McKenzie....
She was as beautiful as a mountain meadow in springtime. But the haunted look in her eyes said she was running from something -- something that had maybe caught up with her. He ached to protect her, to take that look away -- and make her his forever....
But what could a lady like her want with a lawman with an outlaw's heart...?
Very good book. Sarah came to Wyoming to heal. She had been an elementary school teacher in a depressed area of Chicago. Discovering that one of her students was in a dangerous situation she did the right thing and reported. Unfortunately, that made her a target and she ended up raped and nearly beaten to death. She lost her fiance, and could no longer deal with the way everyone treated her, so getting away was her solution. She loves her new job in small town Wyoming, but when she suspects one of her students is being abused she feels that her nightmare is happening all over again. Still, she does what she must and takes her suspicions to police chief Jesse Harte.
Jesse spent a good part of his youth raising hell and getting into trouble before he made the decision to turn his life around. Now he's the police chief and it's his job to stop trouble from happening. He's surprised by Sarah's allegations but determined to find out if there is cause for alarm. Their encounter is somewhat contentious as Jesse is doubtful and Sarah insistent.
I loved the development of their relationship. Because of what happened to her in Chicago, Sarah has been rather withdrawn and quiet around other people, especially men. Jesse makes her very nervous, not just because of his size and reputation, but also because of the strange way she feels around him. But she's tired of her new Nervous Nellie personality and sticks to her guns, discovering that he's not so scary after all. Jesse has been intrigued by Sarah ever since she came to town, but feels that with his less than stellar past she would have no interest in him. However, there's something in her eyes that makes him want to protect her.
As they work together to help young Corey, Sarah finds the ability to trust again. Jesse's caring and compassion give her the strength to overcome the effects of the attack on her and renews her sense of who she is. She's understandably scared when she becomes the target of some trouble. She's afraid that telling Jesse about her past will change the way he treats her, and she'll lose the man she's coming to care for. I loved seeing her go after what she wants. Jesse is impressed by her strength and even more so when he finds out about her past. But that only adds to his feeling that she won't want anything to do with a former bad boy like him. He fights his feelings for her hard, convinced that he's the wrong man for her. I loved seeing his sister tear into him, explaining exactly how much of an idiot he is being. Jesse's big moment at the end was really sweet and romantic.
The suspense element of the story was great. Sarah is certain that there is something going on with Corey and overcomes her fears to do something about it. I loved Jesse's realization of the similarities between them and how he wants to steer him the right way. Both of them realize that Corey appears to be in trouble but they have little success in finding out what. The intensity increases with the vandalizing of Sarah's house and the question of who is behind it. When the final confrontation came, it was from a source I didn't expect. The resolution was great and gave both Sarah and Corey the opportunity to show what they were really made of.
I loved the secondary characters in the story. It was great to see Jesse's two nieces from
The Valentine Two-Step
and how they have him wrapped around their fingers. The chicken pox scene was especially fun. I also liked Jesse's sister Cassidy. She seems to have a good handle on Jesse and his issues, which makes her the perfect person to help him at the end. But my favorite of the secondary characters was Corey. You could see that he was fighting what was happening to him, but that it was too big for him to handle alone. I loved his emerging friendship with Jesse and the way he came through in the end.