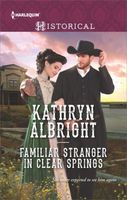 Series:
Heroes of San Diego
(Book 2)
Back in the officer's arms…
Four years ago, Tom Barrington shared a connection with Elizabeth Morley that was like nothing he had ever experienced. But as a solitary soldier, he knew marriage was out of the question.
So when he strolls back into her life, Elizabeth can't believe it. He once broke her heart, and now he's back -- more irresistible than ever! And when the dangers of Tom's lifestyle catch up with him, the question remains: can he be the safe harbor she craves?
Sweet romance with a touch of suspense. Four years earlier Tom had been a soldier at a nearby fort and Elizabeth the storekeeper in town. They were drawn to each other, though Elizabeth was also being courted by another man, one approved of by her brother. Tom receives a promotion and transfer and isn't able to see her before he leaves. Elizabeth is heartbroken when she doesn't hear from him.
Now Tom has arrived back in town, no longer a soldier, but with a job to do. He is shocked to find that she is still running the store and not married the way he thought. He had never forgotten her and with the new information is tempted by her again. Elizabeth is shocked to see him and surprised by the reason he had stayed away. She hasn't forgotten the way he made her feel, but she's not ready to risk her heart again, especially on a man unlikely to stay around.
I liked Tom. He is a man with a strong sense of honor. His reason for being in town was to ensure the safe transport of a gold shipment. He asked for this particular assignment as a way to make amends to the family of his previous partner who had been killed in the line of duty. Tom felt responsible for it and is determined to stop the thieves this time around. Seeing Elizabeth again has him wondering if there's any chance of a future with her.
I liked Elizabeth also, though there were times I wished she was a bit more forceful. She has been running the store in town for her brother, who has a second store in San Diego. She does everything she can to keep the peace with him because of a promise to her mother. His treatment of her is very patronizing and she just takes it. A confrontation he has with Tom has her wondering what is going on. When she discovers that Terrance interfered in her relationship with Tom she is furious and finally starts to think of herself.
I enjoyed seeing the relationship grow between Tom and Elizabeth. He is very protective of her, especially when she shows up in the town where he is working on the gold thefts. Though he knows he should stay away from her, Tom can't help seeking her out whenever he can. There's a really sweet scene where he shows up at the schoolhouse to help her and her friend. Out from under her brother's thumb, Elizabeth's own personality begins to reemerge. Though Elizabeth is cautious about risking her heart again, Tom's attentions have her dreaming of a future with him. Their conversation at the schoolhouse party draws them even closer, but Tom won't look ahead until he can clear his past.
The suspense comes with Tom's search for the gold thieves and his commitment to get the gold delivered safely. There are many things that could affect the outcome and Tom has to plan for all of them. The resolution of the problem does not go smoothly and Tom has to deal with an unexpected complication. Fortunately it all works out and Tom is finally able to put his past behind him.
I loved the ending. Elizabeth had to trust in Tom's promise to return. She returned to her home and faced what was happening. She came back a different person and I loved seeing her embrace it. Tom's arrival back in town was perfectly timed. I loved his "conversation" with Elizabeth's brother. What happened next was a surprise, but the perfect resolution for Elizabeth and Tom.