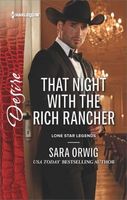 Series:
Lone Star Legends
(Book 6)
A bachelor auction leads to a night of passion for this Texas rancher!
Tony Milan can't believe the stunning vision in red who's placed the highest bid at the bachelor auction! One night of dinner and dancing with Lindsay Calhoun -- his stubborn next-door neighbor -- is all he's signed up for. But Lindsay's makeover has him forgetting all about their long-standing family feud.
Bidding on the sexy cowboy is Lindsay's plan for creating a truce. Until Tony sweeps her into a night of blissful passion -- and a surprise pregnancy ensues. Can two rivals work together to build a future -- one that includes marriage and family?
Good conclusion to the series, as the last of the Milans and Calhouns bring an end to the family feud. The antagonism between Lindsay and Tony has been present throughout the series and it was only a matter of time before it lit sparks of a different sort. Tony lost a bet with his brother and as a result ended up as one of the prizes in a bachelor auction. The last person he expected to bid on him was Lindsay.
Lindsay has one goal from this dinner and dancing event - to set up a truce between them. She figures that getting them into neutral territory will make it easier. She doesn't expect the irresistible attraction between them and the complications it brings to their lives.
Tony was pretty funny in his reaction to a cleaned up and dressed up Lindsay. He'd spent so long looking at her as an adversary that seeing her as a beautiful woman throws him for a loop. He's pretty sure that she has a reason for winning the bid, but he's more interested in the woman than the rancher. Lindsay fights the attraction, but gives up pretty quickly. She looks at their time together as a one time thing because they are just too different.
Lindsay doesn't want to get involved with a fellow rancher because she doesn't want someone telling her how to run her ranch. She has worked too hard for her independence to give it up. She sees Tony as another take charge, bossy kind of guy who would try to take over. Her frequent run ins with him have come when she thinks he is trying to tell her what to do. Their night together shows her a different side to him, one she likes, but is reluctant to believe is the real him.
Over the next few weeks, Lindsay and Tony try to stay apart, but discover that they can't do it. Whenever they are apart, they find that they miss the other, not just in bed but just talking and being together. Then one or the other will find an excuse to see each other, and it will start all over again.
Then Lindsay discovers she's pregnant. She knows that Tony is going to want to be involved, and that he will immediately try to take things over. She can't give up the independence she's worked so hard for. I loved seeing Tony fight his instincts as he gives Lindsay the space and time she needs. They got support from their families instead of pressure, which helped a lot. I liked seeing both of them look at themselves, their relationship, and what they want for their future, and see what had been going on all along.
The ending was pretty sweet. Tony maintains his sense of humor even when Lindsay's stubborn streak rears up. I liked that both of them seem to have a realistic view of what their life will be like, and that they don't expect it to suddenly be all sweetness and light. There is a little twist regarding her pregnancy that shows up at the end.