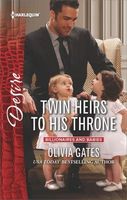 Series:
Billionaires and Babies
(Book 65)
Is the prince back for his twin babies…but not the love he left behind?
After a passionate affair, Prince Leonid Voronov of Zorya disappears, leaving Kassandra Stavros with beautiful twin girls and a broken heart. Now Leonid is back, determined to be a father…and a king. But is claiming his children only a ploy for the throne? And why is he keeping Kassandra at arm's length when his smoldering gaze still ignites her unstoppable passion?
Kassandra remains Leonid's only desire…and weakness. But he can't let her near, or she'd discover his painful secret. He fears the truth would destroy them both.
Intensely emotional second chance love story. Two years earlier Kassandra and Leonid had been involved in a secret, passionate affair. She had just discovered she was pregnant when he was involved in a horrific traffic accident. When she was finally allowed to see him, he broke off their affair, saying some really cruel and heartless things to her. Devastated, she fled, hoping he'd come after her, but eventually moving on with her life. Then Leonid shows up at her home, informing her he'd come for his daughters. He is determined to be part of their lives and refuses to listen when Kassandra tries to send him away.
Kassandra's emotions are all over the place when she sees him again. First, she is angry that he thinks he can do so after the things he said and ignoring them for two years. Second, she is afraid that he is going to try to take them away from her. Last, she can't believe that she is still attracted to him after all he said and did. I loved her strength and that she had no intention of just caving in to his demands. I loved the support she got from her friends and their husbands. When she calms down and allows him to see the girls, she is moved by his obvious love for them. She sees hints of the man she had fallen in love with, but is hesitant to trust him with their hearts and lives.
Leonid appears back in Kassandra's life after disappearing for two years. Part of his reappearance is that he is in line to become the king of Zorya and he wants his daughters to be part of that new life. Though he appears distant and cold to Kassandra herself, he is actually trying to keep a tight rein on his emotions around her. He wants her just as much as he ever did, but believes that he has ruined any chance of her forgiving him. There is also something else that is keeping him from pursuing her.
I loved seeing the two of them come back together. Overall, it doesn't take all that long for Kassandra to realize that she had never stopped loving Leonid. She is confused by the mixed signals she gets from him, as he nearly blackmails her into coming to Zorya with him, but also tries to make the move as painless as possible for her. He obviously respects what she has become and the way she cares for the girls. She also sees that the heat that was between them is still there, but that something is holding him back. A quick giving in to the passion between them results in Kassandra hoping for an improved relationship between them, but Leonid pulling back even further. I loved seeing that Kassandra was much stronger willed than she had been two years earlier and confronted him about his attitude. Her persistence pays off and he finally opens up with the truth.
I ached for Leonid after hearing his story. I had been at least partially right in my suspicions about his reasons for breaking up with her. He had loved her and sent her away because he didn't want to tie her down to him as he was. He never stopped loving her and kept watch over them though he stayed away. He still doesn't believe that she could care for him as he is now. His confession showed a vulnerable side of him that hadn't been seen before. I had high hopes for them after this, as their love for each other was confessed and embraced.
But both of them still have their doubts, and Kassandra learns something that makes her wonder about his motives all over again. Her actions then play into his insecurities, causing an unexpected reaction. The final confronting of fears and expectations broke down all their barriers and they were finally able to accept the truth of their feelings. It was intensely emotional, but also ended on a lighter note thanks to the actions of family and friends.