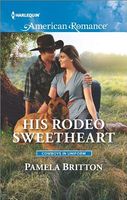 Series:
Cowboys in Uniform
(Book 2)
LOST AND FOUND
After serving in the Army, veterinarian Ethan McCall isn't sure where he belongs. So visiting Claire Reynolds's family ranch to help with her military dog rescue seems as good a place as any. Except that he can't stop thinking about the beautiful single mom. Ethan's happy to lend Claire a hand, but he can't offer his heart, as well. As far as he's concerned, it's damaged goods anyway.
Claire recognizes the pain in Ethan's green eyes. With a son to raise, there's no room in her life for romance…or so she tells herself. But Claire and Ethan can't deny their attraction forever. Can two broken hearts come together to make a family whole? Or will Claire and Ethan continue to run from the thing that scares them most?
Very good and emotional book. It opens with Ethan delivering his deceased friend's military working dog to Claire, who runs a rescue organization for MWDs. He's still hurting over the loss of his friend and not sure about what he wants to do with his life now that he's left the army. When Claire invites him to spend some time at the rescue, he accepts.
Claire started the rescue as a way to honor her husband, a former MWD handler, who had died of cancer. Her life got more complicated when her son was also diagnosed with cancer. He's well on the way toward remission now, but Claire can't let go of the fear that she could lose him too. A connection with Ethan is something she just can't handle right now.
I loved both Ethan and Claire. Ethan's love for animals, especially the military dogs is obvious. His pain over the unknown future of his friend's dog Janus is clear, and he's glad that Claire has the care of him. When he arrives at the rescue ranch, I loved the immediate connection he made with Thor, and how working with Thor helps Ethan heal from his own pain. I really liked how he bonded with Claire's son Adam and tried to show Claire that she could let go a little. Claire has been through so much, and I was impressed with how strong she has been. Her overprotective attitude is completely understandable. Since Adam has been sick, he has become the focus of her attention.
I really enjoyed seeing the relationship grow between Ethan and Claire. Both of them are a bit broken, emotionally. Ethan is suffering from a bit of PTSD and between that and his inability to decide on his future, feels like a bad bet romantically. But the more time he spends with Claire and the animals, the stronger he feels. He is also increasingly attracted to her, but she is fighting it. Claire is attracted to Ethan too, but tells herself she has no time for a relationship, that Adam is her sole focus. Each time that she gives in a little, she ends up feeling guilty. As the weeks go on, her feelings for him grow, but she's afraid to give in to them. I ached for Ethan as she pushed him away, and for her as she let her fears win. The ending was sweet and intense as they were brought back together by their love of a dog. The epilogue was great and not quite what I expected from the beginning of it. I loved the decision that Ethan had made about his future and how it was working out.
I really loved the three main secondary characters of Janus, Thor and Adam. Janus was so lost after the death of his handler. I ached for the way he looked for Trevor when he saw Ethan. It was fantastic that the rescue was working to find him a new and loving home. Where he ended up was absolutely perfect and had me crying happy tears. Thor was a different case altogether. I loved seeing Ethan figure out what his issue was, and the total change in him once Ethan started working with him. His fate was exactly what I expected to happen, and I loved his part in the epilogue. Adam was a terrific kid. His illness had made him pretty mature for a six year old. I thought he had an amazing amount of patience with his overprotective mother. I loved seeing him continue to improve throughout the book and behave more like a kid. His part in getting Ethan to stay at the beginning was really good - he made a great little bulldozer.