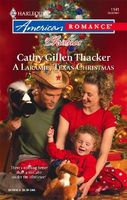 Series:
McCabes: The Next Generation
(Book 5)
All Kevin McCabe wants for Christmas is to get closer to Noelle Kringle. A party planner from Houston, she and her young son are in Laramie to help out a friend. Kevin can't stop thinking about her, and he can tell the feeling is mutual. But as quickly as he's falling for her, Kevin can't help but think she's hiding something.
All Noelle Kringle wants for Christmas is a distraction from the very sexy Deputy McCabe. She hasn't felt anything like this since the death of her husband several years ago. And she sees her son, Mikey, responding to him like a father figure. However, despite what her heart tells her, Noelle knows it can never go anywhere. She has secrets in her past that make it impossible for her to be with a lawman like Kevin.
Then again, you can never underestimate the power of a Laramie, Texas Christmas....
Sweet romance with just a hint of mystery to it. Kevin is on his way home from a fishing trip when he sees what appears to be someone robbing the home of one of Larmie's leading citizens. As a deputy with the local sheriff's department he stops to check it out. Noelle is a friend of Miss Sadie's and has stopped at the house to pick up some things for the old lady to have with her while she recovers from some broken bones. Noelle sees a dirty, scruffy man who looks like he's casing the place for a future robbery. Noelle is protective of her friend's property and Kevin is amused by her actions. After an intervention by one of Kevin's fellow deputies, both admit to their mistakes.
Kevin is attracted to and intrigued by the feisty young woman. He is determined to get to know her better and see where the attraction goes. There is a small obstacle though, in that she could be a suspect in a case of identity theft involving Miss Sadie and others. He should keep his distance until the investigation is over, especially since he gets the feeling that she is hiding something from him.
Noelle is getting her life back together after the death of her husband. She's determined to give her son the best life she can. Spending time in the small town of Laramie is giving her a chance that she doesn't have in her regular city life. Kevin is a distraction that she doesn't need, but one that is increasingly hard to resist.
It was fun to see this romance develop. Kevin is interested in Noelle and isn't going to let anything get in his way, neither the investigation nor the fact that another man has made his interest in her plain. Kevin is basically a really nice guy and enjoys doing things for Noelle. I loved seeing how he and Mikey took to each other. He can also tell that his interest is returned, but that there is something holding Noelle back. Having been burned once in the past by a woman who wasn't what she appeared to be, Kevin digs deeper into Noelle's past, but really wants her to trust him with the truth. Noelle finds herself drawn more and more to Kevin. He's wonderful with her son, fun to be with, and brings an unexpected passion to her life. But she's got some trouble in her past that could change the way he looks at her. She has to decide if she can trust that their feelings can overcome her fears. I loved their big moment at the end as love and trust win out over fear and loneliness.
I enjoyed the bit of mystery about the identity theft. I liked Kevin's determination to find the mastermind behind it. I especially liked his dealings with Scooter and how he was able to get the truth. Scooter's parents were a real piece of work and I hurt for him over their treatment of him. I loved Noelle's comments and how they reflected her own experiences. The ending was realistic and satisfying.