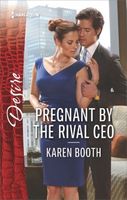 Series:
Langford Family
(Book 2)
It was just business. And then she got pregnant…
Anna Langford is ready to be CEO of the family business, but her brother won't give up control. When she sees the opportunity for a major deal, she goes for it, even though it means working with Jacob Lin, her brother's former best friend, the guy she's never quite gotten over -- the man her brother now despises. A successful venture capitalist, Jacob makes ruthless moves. And Anna has given him the perfect chance to take revenge on her brother…
What starts as business turns into romance -- until Anna learns of Jacob's motives. And an unplanned pregnancy presents them both with the greatest challenge they've ever faced.
Very good reunion story. Anna first made her appearance in the previous book,
That Night With the CEO
, as Adam's younger sister. She wants to be the CEO of the family business, and at the end of the last book, Adam had promised that the job would be hers as soon as he could make it happen. Unfortunately, he seems to have forgotten that promise. Increasingly frustrated, when she sees the chance to make a huge deal, she is determined to go for it. The biggest problem is that it entails working with Jacob, her brother's former best friend and the man she had once loved.
Jacob can't believe it when Anna comes to him with a business proposition. For the last six years he has been working toward taking his revenge on Adam, and Anna is about to give him the perfect shot at it. He doesn't expect the girl he had given up to have become a woman who makes him want to give it all up. But one night in her arms has him trying to find a way to stop that runaway train before it ruins everything.
I loved Anna. She isn't afraid to go after what she wants, professionally or personally. She knows that going to Jacob would be looked at as a betrayal by her brother, but she can't think of another way to get what she wants. She also knows that she is going to have to keep tight control over her emotions, because she has never forgotten the way she felt about him.
I loved the way that they reconnected so quickly, almost as if they had never been apart. Their ride on Jacob's motorcycle had the heat that had been simmering between them burst into a full boil. Though they agreed that their one night couldn't be repeated, that vow lasted only a few days before they couldn't stay away from each other. Over the next few weeks they spent as much time together as they could, with their relationship growing deeper each day. Because of the bad blood between Jacob and Adam, he and Anna kept their relationship secret.
All that secrecy begins to wear on Anna, and she finally tells Adam the truth, only to find out that Jacob is behind a group of investors trying to take over the business. Because he had been trying to find a way to call off the takeover, he had never told Anna what was going on. Heartbroken and feeling betrayed, Anna breaks off her relationship with Jacob, only to discover a short time later that she is pregnant with Jacob's baby.
Anna's conscience, and best friend, won't let her keep that information from Jacob. I loved Jacob's reaction and how he is determined to be a part of Anna and the baby's life. The scene at the doctor's office, both with his protectiveness and how emotional they both got when they heard the baby's heartbeat, was really sweet.
I loved Jacob's determination to win Anna back. He has realized that his feelings for Anna are far more important than any kind of revenge, but is it too late? He has continued his attempts to make things right, and eventually finds the information he needs to do so. That information provides a very interesting twist to the story, Jacob's big moment brings everything to a satisfying end.
As much as I liked Adam in the first book, in this one I spent most of my time feeling like Anna should hit him with a very hard blunt object. He was really obnoxious to her and to almost everyone around him. I was a bit frustrated that we never really got an explanation of what had caused the rift between Adam and Jacob. I also hope that Aiden gets his own story, as his part in this one seemed too easily fixed.