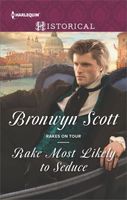 Series:
Rakes on Tour
(Book 3)
"All gamblers are alike in luck…"
Although when Nolan Gray enters a high-stakes game in Venice, facing a ruthless opponent, he'll need more than just luck. He can't start losing now…especially when the virginity of the enthralling Gianna Minotti hangs in the balance!
Fate is on his side, and Nolan seizes victory. But leaving in a gondola with Gianna and not collecting on his tantalizing prize pushes Nolan to his limits! Can he help her claim her freedom when really he wants to claim her for his own?
Good book with an exciting beginning that keeps the tension all the way through. Nolan has joined three friends on a "Grand Tour" of Europe. He is also escaping from a miserable family life. A few months later, Nolan is in Venice, doing what he does best - gambling. The game he is playing takes a strange twist when his opponent gambles away the virginity of his daughter. Though skeptical of the claim, he can't see leaving her to the mercies of the other men at the table. Knowing he can't leave her unprotected, he immediately takes her with him and leaves.
Gianna has been at the mercy of her stepfather for five years, ever since the death of her mother. She will gain her inheritance in a few weeks, an inheritance he is desperate to get his hands on. She knows his actions were another way of threatening her and was determined that he wouldn't see her fear. All she needs is to be able to stay with the Englishman for a few days while she gets her plans together. She doesn't expect the flare of attraction that threatens her plans to walk away from him.
I really liked Nolan. Although he thinks of himself as selfish, he is actually a really honorable man. He is suspicious of Gianna and her motives and worries that the attraction between them is an attempt to distract him. He quickly realizes that she is in serious trouble and is determined to help her, but first he has to get her to tell him the whole truth. I loved his intelligence and resourcefulness as he helps Gianna achieve her goal.
Gianna was also a strong and resourceful young woman. She is determined to lead a different life than her mother had, but to do so she has to get away from her stepfather. His threats against her grow worse the closer she comes to gaining her inheritance and being able to escape. Making sure that she can stay with Nolan is crucial to her plan, and she will do whatever she has to for it to happen. She's reluctant to trust him with the entire truth, and has some interesting ways of trying to distract him.
I liked the growing relationship between them. The chemistry between them is strong and draws them closer together, even though neither plans a long acquaintance. As they learn to trust each other, details of their pasts are shared. They find that their motivations are very similar, creating even more of a connection. Their feelings for each other deepen, but Gianna doesn't want to put Nolan at risk because of her troubles and tries to put distance between them. Nolan discovers a deepening sense of protectiveness, and a reluctance to part ways with her. I loved seeing them come together at the end.
The issue of Gianna's inheritance and her stepfather's pursuit of her was well done. Each layer that Gianna revealed ramped up the intensity of what they needed to do. From the retrieval of her mother's jewel case to the rescue of her brother, I couldn't wait to see what was going to happen next. The final confrontation was great, with a twist at the end that I didn't see coming.
I loved the setting of Venice during Carnevale. The descriptions of the canals and the scenery were vivid, making me feel as though I was there. I could almost hear the music of the concert and see the ball as it was happening.