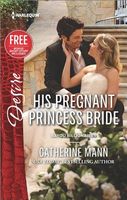 Series:
Bayou Billionaires
(Book 1)
A princess and a Southern billionaire are expecting twins!
His focus is on his family's football dynasty. Louisiana billionaire Gervais Reynaud has no time for romance. But he can't say no to a tryst with Erika Mitras. True, she's a princess, but in no way prim…or proper. Their time together is unbelievable…and all too short.
When Erika said goodbye, she meant it. But now she must tell Gervais the truth. He's about to be a father…to royal twins. After leaving her overbearing family, Erika wants nothing from Gervais. But the tempting tycoon just may charm her into a future she desires all too much.
Good book. Gervais and Erika met at a soccer match in England and had a passionate weekend together. But Erika has plans for her life that don't include an affair with a hot American, so she ignores his attempts to contact her afterward. Then she discovers she is pregnant and has no choice but to let him know.
The first meeting between Erika and Gervaise gives a good feel for what their personalities are like. Erika is there representing her family. She's not happy about it and it shows. Her mind is on her own plans for her future. She is about to leave her career in her country's military, something she did against her family's wishes. Thanks to their interference she wasn't allowed to do the job she wanted to do, so she is preparing to follow her dreams on her own. Her plans are to become a nurse practitioner and she is set to begin. Gervaise is there checking out the stadium because his football team will be playing there. His family has their reputation but he's determined to make his own place in the world. The team that he owns is his and all his efforts are placed on achieving his goals. That isn't to say he isn't interested in a brief fling with Erika, because he is. Her independence intrigues him, as does her lack of interest in the sport that runs his life.
Two months later Erika shows up in New Orleans to tell Gervaise that she's pregnant and find out if he wants to be part of the baby's life. Her intent is to tell him her news, then continue with her plans, expecting nothing of him. But that isn't Gervaise's way of doing things. He immediately proposes marriage, which she refuses just as quickly. He's not going to give up, and talks her into staying two weeks so they can get to know each other, and he has a chance to change her mind.
I liked Erika, but she also frustrated me. She developed her independence and stubbornness because of her family's tendency to try to run her life. I loved seeing her go after what she wanted in spite of their meddling. However, with her pregnancy, especially after they found out it was twins, I felt like she should have been a little more open to options. Every time Gervaise made a suggestion she would shoot it down immediately. She was so determined to hang on to her independence that she wasn't thinking about her pregnancy's effect on Gervaise and his life at all.
I really liked Gervaise. He's ready to step up the minute he hears that Erika is pregnant. He has experience with the kind of man who doesn't, as his father has quite the philanderer's reputation and he doesn't want that for himself. He understands her goals and he doesn't ask her to give them up, just alter their timing a little bit. I loved his protectiveness and how he tried to do everything he could think of to get her to stay. I really liked that he tries not to push her to give in, but gives her the space she says she needs.
As the visit goes on and they get to know each other, the passion grows into more. Erika slowly realizes that she doesn't want to be wanted just because she's pregnant and it's the right thing, she wants to be loved for herself. She's afraid of risking her heart so she doesn't tell Gervaise how she feels. Meanwhile, Gervaise doesn't want to drive her away by confessing feelings that he thinks she doesn't want to hear about. It doesn't help when her entire family shows up, adding their own special brand of pressure. I have to say that I didn't like them much, except for one surprising conversation with her oldest sister, Astrid. I loved the ending and seeing them finally opening up to each other.
I'm really looking forward to the rest of the series and seeing what happens with Gervaise's brothers.