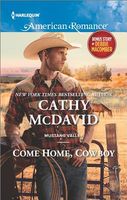 Series:
Mustang Valley
(Book 6)
A COWBOY'S SECOND ACT
To provide stability for his two young children, retired rodeo rider Josh Dempsey returns home to his family's Arizona ranch, part of which is used as a mustang sanctuary run by Cara Alverez.
Working with horses helps Cara deal with a tragic loss. When Josh asks her for parenting help in return for his support with the sanctuary, Cara is torn. She is captivated by his adorable toddler son and baby daughter but isn't sure she can survive another blow to the heart. Unless a cowboy looking for his own second chance can show her how to love again.
Very good and highly emotional book. It opens with Cara desperately trying to deal with her grief on the anniversary of her son's death. The last thing she wants to do is face Josh, single father and part owner of the ranch that houses her mustang sanctuary. There's been tension between them since he and his brother tried to get her to give up her claim to part of the ranch in
Her Holiday Rancher
. But she won't give up the one thing that gives purpose to her life as it now is.
Though Josh hadn't been happy with the terms of his estranged father's will at the beginning, it has turned out to be a good thing. He needed a stable home to bring his children to after retiring from the rodeo and gaining custody from his drug addicted ex-wife. But now that he has them, he's feeling overwhelmed by everything he doesn't know about parenting. So he offers Cara a bargain: he will help her with her mustang rescue operation if she will help him learn how to care for his kids.
I hurt for Cara as she was so weighed down by the grief and guilt over her son's death. She blames herself for what happened to him rather than seeing it as a tragic accident. It affects her to the point where she isn't sure that she should be trusted around Josh's kids. But his belief in her combined with the time she spends with the kids, the easier it gets.
There is also a definite attraction between the two of them, something that Cara fights just as hard as she can. Josh is far more willing to pursue it and see where it might go. Though his marriage hadn't been a good one, and his parents' had been even worse, he hasn't given up on the idea for himself. I loved his patience in waiting for Cara to be ready, though he certainly had no problem with pushing the limits a little bit here and there.
I also loved his support of her and her mustang sanctuary. She doesn't have an easy time accepting help and tries to keep him at a distance at the beginning. But Josh has more than his fair share of charm and humor to go along with his good looks and he has no trouble using them to get his way. There are some really sweet moments when his care and patience take precedence over his own feelings. And when the strength of her growing feelings cause her to panic and pull away, he overcomes his own hurt to show her the depth of his feelings and what they can have together.
Also running through this book is a continuation of the struggle to bring the ranch back to financial health. More debt is discovered, making their position even more precarious. Cara feels especially bad because of the additional strain of the mustang sanctuary. I loved seeing them all work together to run a successful fundraiser to help it become self-sufficient. I especially loved the big part that Josh played in it and the sweet surprise he and his young helper provided. There was also a fantastic development that came out of that surprise that made things even better. I'm really looking forward to Cole's story and hopefully a happy resolution for the ranch.