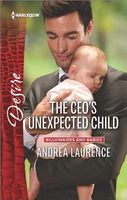 Series:
Billionaires and Babies
(Book 67)
CLAIMING HIS CHILD…AT ANY COST
A shocking fertility clinic mix-up has resulted in Luca Moretti fathering a child with a woman he's never met. There's no way the CEO will walk away from his baby girl. But he has thirty days to convince her distractingly beautiful mother to do exactly what he wants.
Widow Claire Douglas is still reeling from the loss of her husband when she discovers a stranger has fathered her child. And the rich bachelor will stop at nothing to gain joint custody. How can she possibly fight a man with such money and power…and a charm she can't resist?
Very good and very emotional book. Claire became a widow when her husband was killed in a car accident, accompanied by his mistress. Then she gets word that through a mix-up at the fertility clinic her daughter's father is actually another man, one who wants shared custody of little Eva. Luca had given up any hope of ever being a father after a devastating illness when he was a teen. When he discovers that he has a daughter thanks to the clinic mix-up there's no way he can walk away. But what are his chances of convincing her mother without a long and painful custody battle?
I must admit that my first impression of Luca was of a cold man who is only interested in getting his way. His threats against Claire really had me wanting her to fight back. But that quickly faded when his thoughts and feelings were described and I could see how much having a child would mean to him. I liked seeing the solution that he came up with, of the three of them spending a month together, getting to know each other. It also said a lot about Claire that she could see the benefit and was able to agree. I also liked the way that she had the graciousness to invite him to meet Eva before they left on their trip.
This is where Luca really began to shine. I loved the way that he was immediately enchanted by Eva and the effect that she had on him. Claire also began to realize that there was more to him than the ruthless businessman she first thought him to be. Something neither of them expected was the flare of attraction between them, something both were uncomfortable with. Luca had been burned by another woman and has serious trust issues when it comes to them. He had also determined long ago that a family was something he would never have. Claire no longer trusts her judgment when it comes to men, thanks to her husband's lies and infidelity. She isn't about to risk her heart again.
I loved their time at Martha's Vineyard. Claire quickly came to see that Luca would be a wonderful father to Eva. Luca also discovered that Claire was not as unreasonable as she had seemed before. I loved seeing them get to know each other and how easily they worked together as a family. I loved Luca's protectiveness toward Claire when he found out about her husband's treatment of her. She had never experienced that kind of caring and it only added to her growing feelings for him. Luca was also beginning to care for Claire, but tried to suppress those feelings. He was, however, willing to use her feelings to convince her that being married was the best option for them. He was also determined to keep the truth of his illness from her, as he felt it made him less of a man. It was interesting to see that Claire could tell that he was holding back on something important and that she was determined to get the truth from him before moving further with a relationship.
I loved seeing them grow even closer by the end of the trip. Luca was still guarding his feelings and I was sure that something was going to happen to crack the wall around his heart. And when it did, he made the world's biggest idiot of himself. I ached for Claire but loved the way that she stood up for herself. It was wonderful to see her call Luca out on his cowardice and stand strong. It was very satisfying to see him have to admit that she was right and do something about it. I loved his big moment at the end, and the twist that Claire added to it.
I loved Luca's family and the obvious love and support they had for each other. I could also understand why he had kept Eva a secret from them for so long, as they were certainly overwhelming as a group. It was sweet to see the way that they all embraced Claire right away. I also loved seeing Gavin from
His Lover's Little Secret
. He got quite a laugh out of Luca's reaction to Claire and I'm sure he could see where it was heading. I also liked his support of Luca at the end, and how he backed up Claire's challenge. His comments after Luca got the results of his test were pretty funny.