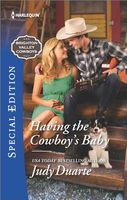 Series:
Brighton Valley Cowboys
(Book 2)
"I'm…pregnant?"
How can that be? Well, Carly Rayburn knows how -- but she'd been told she could never have children. Even more shocking is returning to her family ranch to tell the daddy-to-be, sexy cowboy Ian McAllister. Carly has dreams to reach country music stardom; he has his boots planted firmly in the Texas soil. But they share two things: undeniable heat…and, soon, a baby.
Ian never forgot Carly, nor his plans to buy her ranch. There he envisions raising a family…with the right woman and at the right time. Till Carly drops her bombshell. When his head clears, he may be thrilled to be a daddy, but can he lasso the starry-eyed singer and become a husband?
Good book that picks up where the first book in the series,
The Boss, the Bride and the Baby
, left off. Jason and Juliana are married, and Carly has come home to the ranch to try to recover from the sickness that has been plaguing her for the last couple months. She needs to get healthy again so that she can continue to pursue her dream of singing. The only problem with being at the ranch is that's where Ian is also. The last time she was home they had a brief but passionate fling. She can see him being a distraction from her dreams - she wants to pursue her dream, but Ian's roots are firmly planted in Brighton Valley.
Carly is a woman who knows what she wants, and that's a career as a country singer. She will do whatever she must to make her dream come true. Coming home to Brighton Valley gives her a chance to get healthy again, but also to keep singing locally. To do so, she needs someone to play the music, and she decides that Ian will fit the bill perfectly. She knows that he's an excellent musician and can sing, so she commits them to a performance without asking him. She hopes to convince him to go on the road with her, too. She doesn't understand why he's so angry with her when she tells him. She is of the opinion that he is wasting his talent and his life stuck on the ranch when he could have so much more.
What Carly doesn't know is that Ian has already "had it all" and walked away from it. His time on the road led to heartbreak and a reevaluation of his priorities. Now, all he wants is to buy the ranch when the family puts it on the market and look to the future of eventually raising a family there. He is not happy to be coerced into performing again, but has trouble saying no to Carly. He agrees to the one performance, but makes it clear that's all he'll do.
I liked the development of the relationship between them. The attraction is always there, bubbling below the surface, but they know nothing can come of it - their lives are too different. One thing they have in common is music, and practicing together for their performance brings them closer. When Carly discovers she's pregnant, she's stunned because she didn't think it could happen. She also doesn't know what it will do to her career plans. Ian is equally stunned, but ready and willing to be a father. I loved seeing his protectiveness come out as he watched over Carly. I also liked seeing how well he knows her and what her reactions would be. I got a little frustrated with Carly's tunnel vision regarding her plans and the way she kept ignoring Ian's refusals to perform in public, but eventually she realizes he's serious. Just when things are starting to improve between them, Ian's past shows up to cause trouble. Carly is hurt and angry that he hadn't trusted her enough to tell her the truth, and begins to question some of the things that had gone on between them. An emotional scene at her ultrasound, followed by the open conversation they should have had long before, finally brings them together the way they should be. There's a nice twist at the end as they celebrate his grandparents' anniversary with them.
During the book there are periodic updates from Jason about their search for the missing twins their father had been looking for before his death. My suspicions from the previous book turned out to be correct. Now I am looking forward to seeing what happens next.