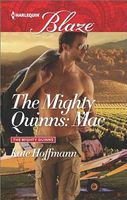 Series:
Mighty Quinns
(Book 32)
No strings. No tomorrow. Just here and now…
Luke ''Mac'' MacKenzie has no past. Orphaned at twelve, he doesn't remember his real name or why his parents were on the run. The name "Aileen Quinn" means nothing to him. Now Mac wanders through the country as a pilot, never settling down…until he finds something -- or someone -- who stops him in his tracks.
After all she's been through, Emma Bryant just wants a fling -- a hot man for a passionate night she'll never forget. Preferably someone tall, dark and really, really hot. Like Mac. The problem is, there's nothing casual about the heat between them…or the bond that threatens them with something neither thought they could have: a future.
Good book about two people who aren't looking for love but find it anyway. Mac has been mostly on his own since he was abandoned by his parents when he was twelve. A few years in the foster care system only solidified his desire to look toward the future and leave the past behind. As a pilot working for himself, it's easy to pack up and move on whenever anyone gets too close. Emma is the librarian for her small town library. Growing up she had been the ugly duckling that no one was interested in dating. Just when she passed that stage, her mother became ill with cancer and Emma devoted herself to taking care of her, leaving no time for dating. Now she's twenty-seven, has never been with a man, and the whole town knows it. Everyone is trying to fix her up, and all Emma wants is to find out what all the hoopla is about.
Then Emma meets Mac and decides he's the perfect choice for her dilemma. He's only in town for a short time and he's hot enough that she's sure that he knows what he's doing. All she has to do is convince him that she isn't interested in forever, just right now.
For all that the chemistry between them is smoking hot, this is really a pretty sweet romance. Mac listens to what Emma wants, but rather than go for the "wham-bam-thank-you-ma'am" that she is asking for, he tries to give her the experience he thinks she deserves. Strangely enough, the combination of her sweetness and enthusiasm has him thinking of staying around longer rather than running the way he usually does. But he had already made it clear that he isn't a man who stays and she has said she doesn't want a relationship, so how can he change the rules? Emma has plans for her life, so she doesn't want to settle down, but she does want to get rid of the albatross of her virginity. Mac is perfect for the job since he'll be leaving soon. Though frustrated by his plan to take things slow, once they get going she couldn't be happier, until she realizes that she's falling for him. But she had promised that she would have no expectations, and she's determined to keep that promise.
Running throughout the book is the question of Mac's past. Mac prefers to leave the past where it is because he doesn't think that there would be anything good to find out. After all, his parents were cons who were always on the move, and who had ended up abandoning him. But Emma truly believes that Mac may have family out there looking for him. While helping a library patron with a similar question, she discovers a way for him to find out, all she needs to do is convince him. I loved the way that she was sensitive to his fears, but persistent in her attempts to persuade him. It said a lot about Mac that, though he would get angry, he didn't hold a grudge and would actually consider her point of view. It was bad of Emma to justify her snooping the way she did, but it all worked out in the end.
I really liked the fact that both Emma and Mac realized that they had to face their own issues before they could hope to have a future together. It was even better that they supported each other in that need and could give each other the space to do it. Their reunion was sweet and romantic.
I loved the epilogue with Aileen Quinn and her happiness at having tracked down the descendants of her four brothers. There was a lovely twist in the news that her research assistant brought to her, and her excitement was a wonderful cap to the Aileen Quinn set of the Mighty Quinns books. I am looking forward to seeing what is next for this family. Perhaps there will be stories for the children of the first Quinn books.