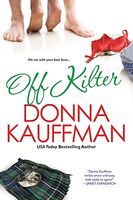 Series:
Hot Scot
(Book 2)
Fire Down Below
Brash entrepreneur Roan McAuley has no problem getting naked. But being the only one in the room dropping kilt and giving plenty isn't his idea of fun -- even if it's for the "Men of the Highlands" calendar and a good cause. However, getting feisty photographer Tessa Vandergriff all hot, bothered, and hungry is proving irresistible...even though she's not his type. And even if the sizzling attraction between them is changing everything this roguish playboy thinks he knows about lust...and love.
Very good book and more complex than I expected from the description. Roan is a native of Kinloch and the man in charge of running the island business of exporting artisan baskets. He's not too thrilled with being tagged to audition for a slot in the "Hot Scots" charity calendar. Though he could do without the audience watching the photo shoot, he's having a grand time giving photographer Tessa a hard time. Tessa came to the island to visit a friend and to try to deal with the things she's seen as a photojournalist. Shooting "fluff" pictures should be a piece of cake, but Roan's good looks, charm and teasing are getting under her skin. She has no interest in anything serious, but she wouldn't mind a little mutual stress relief.
This was an interesting book because it's Tessa that is suffering from PTSD and is avoiding relationships, while Roan becomes intrigued with her and her layers and wants something real. I loved their first encounter, as the attraction between them sizzles and it looks like they're going to jump right in. But Roan has already seen that Tessa could be much more than just a romp and is determined to show her that. Unfortunately for him, Tessa is still running from anything that can make her feel and tries her best to resist his attempts to slow things down. Tessa is used to depending on just herself, and doesn't know how to deal with Roan's attempts to help her. She has come to the realization that she can't go back to what she was doing before, but is at a loss about what to do next. Her nightmares and fears have her feeling too broken to believe that anyone could want her.
I loved the development of their relationship. Roan is quietly and calmly determined that they will get to know each other before getting physical. That doesn't mean he isn't going to touch her. I loved all the sweet and gentle kisses that would heat up to more. He was also a very "touchy" guy, who loved to put his hands on her in non-sexual ways. I loved his explanation of why that is. He also listens and sees beneath the surface of what she says. I loved the way that Roan accepts that she has these issues and doesn't play them down. He encourages her to talk about them, but doesn't push too hard to get her to do so. I loved how he was there when she needed him, but not always sure that he was handling things the best way. He had moments of his own doubts but refused to give up on them. I ached for Tessa and the pain she was in. She's certain that a relationship is not possible, but she can't say no to Roan's persuasiveness. She surprised when she discovers that his attentions do have a beneficial effect on her. I loved seeing her start to look at the world through slightly happier eyes and what that means for her professionally. It was wonderful to see the way that she was able to share what she had seen with Roan and the effect that it had on her.
Even better was their acceptance that just admitting their love isn't enough to guarantee their happiness. Tessa warns him that she will be a work in progress for a long time, and he's equally honest that he isn't always going to know the right thing to do. They also have to find a way to meld their lives, as his is on the island and hers requires travel. I loved the solution that they came up with and how right it is for them.
I loved the secondary characters of Graham and Katie from the first book and their friends Shay and Kira. The men's friendship says a lot about them, with plenty of teasing but also support when it was needed. There was some more drama carried over from the first book, involving Katie's parents, but it didn't really seem to get resolved. Kira and Shay get their own story in
Unwrapped
.