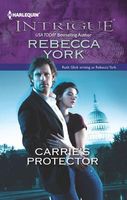 SAVING HER FROM TERRORISTS WAS THE EASY PART…
Still smarting from a failed mission, bodyguard Wyatt Hawk is to escort photographer Carrie Mitchell to a meeting where she'll testify about a terrorist plot. Instead, a near-deadly ambush sends the two on the run from a fiery blast of bullets.
Forced into close proximity with wealthy Carrie, Wyatt has little interest in her; their differences couldn't be bigger. But somewhere between a compromised safe house and the discovery of a shocking conspiracy, the cool and distant bodyguard finds himself succumbing to Carrie's seductive allure. He'll even risk his life to save hers…because all he's left unguarded is his heart.
Good book with plenty of action to go along with the romance. Carrie had been taking wildlife photos when she overheard some men planning a bombing. After reporting what she heard to the feds, she was taken to a safe house until it was time to testify. The lead bodyguard is Wyatt Hawk, a man who holds himself apart from everyone else. While she notices his good looks, Carrie doesn't like him much.
The day that he takes her to testify against one of the men, they are ambushed and forced to go on the run together. With Wyatt being all that stands between her and certain death, suddenly her reasons for disliking him don't seem so important. She has to depend on his training and wit to keep them safe and to find out who is behind their betrayal.
Wyatt was drawn to Carrie, but there's no future in it. She's the daughter of a rich man, and he's an ex-CIA agent with a troubled past. However, he can't deny that she holds her own during their troubles, and the attraction between them is growing stronger. But the last woman he worked with and cared for got killed on his watch, and he refuses to open himself up to that happening again. I loved seeing Carrie get to him. Once she found out what it was that was holding him back, she was determined to make him see that it wasn't his fault. It was also pretty awesome to see her set her sights on him and go after what she wanted. It was great to see her get him to admit his feelings at the end and confess her own. That last scene at the FBI building was terrific.
The suspense of the story was great from the very beginning. It took every bit of skill that Wyatt had to keep them one step ahead of the bad guys. There were several times I wasn't sure how they were going to get away. As the story progressed, I had a pretty good idea of who was behind it, but there was an unexpected twist to the actual motivation. The final confrontation was very intense, and I loved seeing Carrie come up with a way to save Wyatt.
One of the things I enjoyed about the book was the location, as it isn't too far from where I live. I really liked being able to picture the various places as I read.