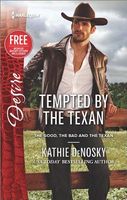 Series:
The Good the Bad and the Texan
(Book 6)
This Texas cowboy wants the one woman he can't have…
Jaron Lambert has his pick of willing women, but he only has eyes for lovely young Mariah Stanton. For years, he's tried to stay away. But on one perfect, tender night they set aside their nine-year age difference and indulge in everything they've both been wanting.
But Jaron is still dealing with the effects of his dark, troubled past. He can't tell Mariah the truth so he has to tell her their night was a mistake. Because falling for her is the one thing he can never do…
Fantastic finale to the series as Jaron, the last of the "brothers" from the Last Chance Ranch finds his true love. Jaron and Mariah have known each other for seven years, ever since his "brother" married Mariah's sister. There have always been sparks between them, but Jaron claims to nine year age difference too much and avoids her whenever possible. Mariah has been in love with him all this time, waiting for her chance to show him that she's a grown woman.
She gets that opportunity when car trouble brings them together. I loved the scene at the bar when Jaron comes charging to the rescue. His protectiveness toward her really comes out, as does his attraction to her. After a smoking hot kiss, Mariah isn't about to let him pull away, and a passionate night together follows. But the next morning Jaron is back to his usual self, avoiding what is between them.
Jaron had a horrible childhood, losing his mother at six and suffering terrible abuse by his father before ending up in the foster care system at thirteen. The physical and emotional scars run deep, and his actions got him sent to the Last Chance Ranch. Since then, he tries to keep the past in the past, but believes that no woman would want him if she knew about it. Giving in to his desire for Mariah only makes it worse, and he feels guilty about what he did. He knows he needs to stay away from her, but hires her as his housekeeper until she can find another job.
I really liked Mariah. She had been in love with Jaron for years, so when she has the chance to get what she wants, she goes for it. She's hopeful the next morning that things have changed between them, and rightfully angry when he tries to push her away again. I loved her first reaction to his job offer, and then her reasons for reconsidering. There is definitely a method to her madness of taking a job she can't do.
With both of them under one roof, their relationship really begins to grow. Having known each other for so long, the friendship is already there. There are some great conversations, from her lack of cooking skills to their working together on ranch business. When the proximity finally gets to be too much, they finally give in, but Jaron is still fighting against what he really wants. He can't bring himself to tell Mariah about his past because he's so afraid she'll walk away. Mariah knows there's something he's holding back and encourages him to talk to her, but can't break down that wall. I loved her determination to be patient and really understood her frustration. I ached for both as Jaron was suddenly forced to face that past or lose Mariah forever. The resolution was wonderful as he finally faced his demons and was able to go to Mariah with an open heart. His big moment was really sweet, and perfect for the two of them.
I loved the importance of family through the whole series. Each of the brothers was there when help or support was needed. There was also a great deal of fun and laughter, such as when they realized that Jaron had finally fallen. The epilogue was a wonderful wrap up, and a beautiful tribute to the man who had helped them all. There was also a cute twist involving Jaron and Mariah at the end.