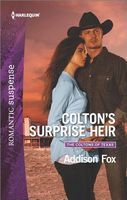 Series:
Coltons of Texas
(Book 2)
A brooding cowboy tracks the stalker after his true love--and unborn child
With an imprisoned serial killer for a father, rancher Ethan Colton never planned on continuing the tainted family name. But six months after a night of passion with a woman from his past, Ethan discovers he's about to be a dad. Beautiful, independent Lizzie Conner turns up at his Texas ranch expecting nothing but protection from the guarded cowboy. A stalker is fast on her trail, leaving creepy gifts and notes threatening her and the baby. Now all that matters to Ethan is keeping his unexpected family safe--and out of a killer's clutches.
Very good book that kept me hooked until the very end. Ethan and Lizzie had known each other as teenagers, when Lizzie was in the same foster home as Ethan's youngest sister Josie. Lizzy had had a crush on Ethan, and when she met him again years later she discovered the feelings were still there. A passionate night together left her pregnant with his baby, and not sure whether to tell him.
Ethan's father was convicted of murdering Ethan's mother and also being a serial killer. Ethan was the one who found their mother's body and his testimony helped convict his father. He is still haunted by the memories and swore long ago that he would never pass his tainted blood on to another. He's stunned to find out that Lizzy is pregnant, but determined to do his best to be a father to his child.
Lizzy came to Ethan because she has been receiving creepy notes and gifts since her pregnancy became public. When the stalker broke into her house twice, she had enough and fled to Ethan. He is determined to keep her and the baby safe, but also try to keep an emotional distance from her.
I loved the development of their relationship. Because they have known each other for so long they are familiar with each other's pasts. Lizzy doesn't judge Ethan by what his father did, she knows the man he really is. Ethan has tried his best to put his past behind him and devotes his time to his ranch. His love of animals shows that the ability to care is there if he will just open himself up to it. Lizzie has also made a good life for herself and is determined to take care of her baby. The trouble that Lizzie is in brings out Ethan's protectiveness. Having her in his home makes him realize how empty his life has been, but he is wary of making a commitment. One of the things I liked best about the book is that Ethan and Lizzy talk to each other about their pasts and their fears. It isn't easy, but she gets him to open up to her about his father. Even when they argue they are able to admit when they are wrong and apologize. I loved seeing them grow closer as they adjust to the idea of being parents. There are some good conversations between them about the baby. It takes almost losing her for Ethan to realize that she is more important than his fears.
There are three suspense stories woven throughout the book. The first is who is stalking Lizzy. Someone is leaving creepy notes and gifts about the baby, and Lizzy is scared. She goes to Ethan for protection and for help in figuring out who it is. I had a feeling about the stalker, part of which was correct but part of it was a surprise. The final confrontation was intense, but the danger was dealt with quickly by Ethan.
The second is the story of the alphabet killer, which started in the first book and looks like it will continue through the series. It looks like a copycat, who is imitating the methods used by the Coltons' father twenty years earlier. With several of the family members in law enforcement, they are all determined to find out who it is. In this book we actually see one of the murders committed and who does it, but the motivation is still unknown. The killer is also still on the loose.
The third is what is going on with the Coltons' father. He has been in prison for twenty years for killing his wife and others. He is now dying and wants to see each of his children before he dies. To make it happen, he promises to give each one a clue about what he did with their mother's body. The Coltons are a close family in spite of having been separated into foster care when he went to prison. Each of them deals with their past in their own way, and most are not happy about their father's demand. I love how they are there for each other, even when they argue. In this book it is Ethan's turn to confront his feelings and his father.