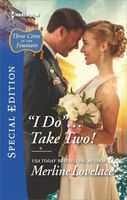 Series:
Three Coins in the Fountain
(Book 1)
HER PERFECT ROMAN HOLIDAY
A Roman reunion isn't on Kate Westbrook's itinerary when she arrives in Italy. After all, she's flying solo on the vacation she'd hoped to share with her soon-to-be-ex. But when Kate tosses a coin into the Trevi Fountain, her deepest wish -- a second chance with her gorgeous pilot husband -- might come true…
Travis knows his dangerous missions broke up his marriage, but he's determined to win back his wife. How can Kate resist the magic and moonlight of Venice, followed by a passionate interlude in a sun-drenched Tuscan villa? Now, instead of dodging missiles, Travis faces a far more daunting challenge: proving to the woman he adores that their love is as enduring as the Eternal City itself.
I loved this book. Kate and her husband have planned their ideal Italian getaway for years. But between her career and his, and their frequent separations, it never happened. And all those separations have seen them grow apart. So Kate has filed for divorce and come to Italy with her two best friends. She never expected Travis to show up, determined to win her back.
I loved the honest look at what frequent deployments can do to a military marriage. Kate and Travis loved each other, there was no doubt about that. But with so much time apart, they felt that they didn't know each other. There was also a bit of trouble instigated by someone else that drove Kate's decision to end their marriage.
I really liked both Kate and Travis. They are each strong, intelligent and determined. When Travis shows up, wanting them to take this chance to see if their marriage can be saved, Kate isn't sure she wants to risk her heart being broken all over again. But she can't deny that she still loves him. I loved Travis's determination. He isn't going to let them go down without fighting for their marriage.
It was really sweet to see the effort that Travis put into making their time together as perfect as he could. With the help of his two friends, he was able to provide some really romantic settings for his courtship. I also liked the way that he owned up to the mistakes he had made in the past and that he needed to make some changes. I also loved the pride he had in her achievements. Kate is a bit of a control freak, but I loved seeing her let go enough to give Travis the chance that he asked for. She has always been very proud of what he does, but the stress of their separations and of not knowing whether he's safe has become too much.
The passion is still there between them and that gives them a starting point. I loved seeing them getting to know each other again and share the beauty around them. It was great to see how they were able to talk honestly to each other about what had been happening. I wasn't terribly surprised about Travis's solution to their issues. The biggest hurdle was Kate facing her guilty feelings over her part in that decision. A bit of danger at the end cemented their feelings for each other.
I loved the big parts that Kate's and Travis's friends played in the book. Kate and her friends, Dawn and Callie, had known each other for many years. They have always been there to support Kate when she needed it. I loved their reactions to Travis's arrival and plans, and how they made no secret of their feelings. It was pretty sweet to see how Travis respected those feelings and had done his best to make their time in Italy good even though he was taking Kate away from them. Travis's friends were of shorter acquaintance, but just as important to him. I loved hearing about why Carlo feels so indebted to Travis. Carlo is quite the Italian playboy and it was fun to see him around Dawn and Callie. Brian also has a big part in Travis's life, and we hear all about his plans. I also loved the way that Brian is such a great dad to his son Tommy. Tommy was a great addition to the book and I loved his mischievous ways. I'm expecting to see all these folks in the rest of the series. I think I've got one couple figured out (Brian and Dawn) but I'm not so sure whether it will be Callie and Carlo or Callie and Joe.