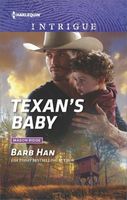 Series:
Mason Ridge
(Book 4)
A Texas bodyguard never thought he'd see Melanie Dixon again -- or learn he was the father of her little boy…
A shotgun blast shatters the night and Dawson Hill foils a ruthless stalker. Now the fearless bodyguard is committed to protecting Melanie Dixon -- the alluring woman who left him two years ago without a word. Not only is he surprised she's back in Mason Ridge, Dawson is doubly stunned to learn they have a son.
Now the three of them are on the run, and Dawson is determined to protect the baby boy he never knew he could love so much. With his passion for Melanie reigniting like Texas wildfire even as he struggles to forgive her deception, a madman closes in. A madman who threatens the family Dawson never dreamed would be within reach.
Good conclusion to the series. When Dawson spots a prowler at the house across the street he foils a stalker after his old friend Melanie. He also discovers that he's the father of an eighteen month old son. Now he's determined to protect them both while getting to know his son.
Dawson had never planned to have children. His little sister died of a devastating disease when she was five, and he didn't want to chance passing the gene on to another child. He has walled off his heart from wanting a family of his own, but Mason crashes right through them. I loved seeing him take to being a dad so quickly. He is understandably angry at Melanie for not telling him. But underneath the anger is the attraction for her that he hasn't been able to forget.
Melanie kept Mason a secret to protect Dawson from the possible devastation of losing someone else to the disease. She knew of his feelings about having children of his own and thought she was doing the right thing. This had been reinforced by Dawson's mother when she found out. But seeing Dawson with his son makes her rethink her actions and wondering how to make things right. She also couldn't deny that her feelings for Dawson were as strong as ever.
I really liked seeing these two find their way to each other. Having been neighbors growing up, they'd always been friends. When Dawson's sister died, Melanie was the one there for him as he came to terms with it. She never pushed him to talk, she was just there. Melanie was the one person he could be himself with because he felt that she understood without judging. As they are thrown together in their attempt to avoid the man after Melanie, Dawson begins to open himself up to the idea of having the family he had been denying himself. Trouble comes with the unexpected appearance of Dawson's mother and the exposure of what drove Melanie away. Both of them have to face their fears before they have a shot at a life together and nearly losing their lives is the catalyst that does it.
The suspense of the story was good. At the end of
Texas Hunt
one bad guy is caught and at the beginning of this one he has squealed on his partner. In this one, it turns out that Melanie's stalker is Sprigs, the partner and the man who'd had a crush on Melanie when they were in school. Dawson is determined to do everything possible to protect Melanie and Mason, as law enforcement works to find Sprigs before he can get to Melanie. There are several close calls before the final confrontation, which happens after a really disturbing find. That confrontation was very intense with a couple times I wasn't sure how they were going to get out of it alive. The resolution was very satisfying.
The epilogue was a very nice wrap up to all four stories, with good news for Dawson and Melanie.