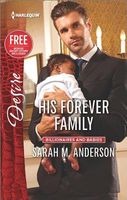 Series:
Billionaires and Babies
(Book 66)
Found: one baby…and the boss's future bride?
Tiny and helpless -- the abandoned newborn that venture capitalist Marcus Warren finds during a morning run takes him by surprise. So does the sudden longing for his capable assistant, Liberty Reese, who reveals her tender side with the baby.
But Liberty must resist her gorgeous boss's advances. Her secrets could destroy his trust, her career and the chance to care for the foster child they are both coming to love. Even so, she can't deny the heat between them -- or the fear that her past will end their chance to create a forever family.
Good book, something of a Cinderella story. Liberty has been Marcus's admin assistant for three years, even going so far as to run with him in the mornings. On this morning they discover an abandoned baby while on their run. Marcus is amazed by the different side of Liberty that he sees, and it awakens unexpected feelings in him.
I mostly liked Marcus. He came from money, but branched out on his own and made his own fortune. He has tried to distance himself from his parents, who are self-absorbed and concerned only with appearances. His father is also known for having affairs with his secretaries, which is the main reason that Marcus has suppressed his attraction to Liberty. I loved the way that fulfilling Liberty's wishes about the baby becomes so important to him.
I also mostly liked Liberty. She has worked hard to make a good life for herself, She grew up as the daughter of an African-American drug addict and hooker who ended up going to jail. Liberty then went from foster home to foster home. she thinks her father was white because she passes for white. She keeps her background very private, and has never told Marcus anything about it.
Their mutual interest in the baby brings them together as they hadn't been before. I loved seeing Marcus fall so hard for Liberty. She falls for him too, but is insistent that she "isn't good for him". There is a fair amount of conflict because of what she sees as the vast gulf between them. Marcus doesn't care about it, he's secure in his world and doesn't really care what anyone else says about him. It's interesting to see him admit that he really has no idea how the other half lives, but it shouldn't matter to the two of them.
Running through the story is a wedding that Marcus is supposed to attend. It is that of his ex-fiancee and his mother is insisting that he go and take a date, because it makes him look bad if he doesn't. He really doesn't want to go, and certainly not take any of the "suitable" women she suggests. I loved how Liberty tries to make him see that he doesn't have to cave in to her pressure. Instead he takes Liberty as his date because she's the one he wants to be with. There are rather nasty confrontations with the ex and his mother, but Marcus finally sees Liberty's point and grows a backbone when it comes to his mother. However, there are consequences that come out the next day, during a meeting that Marcus and Liberty attend. Marcus doesn't react well and Liberty gets all her fears confirmed.
In her last words to Marcus, in a note, she told him
"If there's one thing life has taught me, it's that you have to save yourself. No one else is going to do it for you."
That is an eye opener and game changer for him, and I loved the effect it had on him. It was great to see him fight for Liberty and I loved his big moment at the end. I also loved the appearance of Trish Longmire from
The Nanny Plan
, and the part she had in Liberty's own epiphany. The ending was really sweet and made me like Marcus even more.