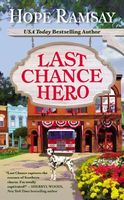 Series:
Last Chance
(Book 9)
Ross Gardiner has had his fill of difficult relationships. Returning to Last Chance after a rough divorce, the town's handsome new fire chief just wants safety and stability-a tall order given his dangerous job and the way he has the attention of all the single women in town. All "except "Sabina Grey, the girl who stole his heart when they were teenagers.
Sabina knows a lot about playing it safe. Always the good girl, she's now responsible for her antiques store and caring for her sister. But having Ross in town brings back the memory of one carefree summer night when she threw caution to the wind-and almost destroyed her family. Now that they are both older and wiser, will the spark still be there, even though they've both been burned?
Ross returned to last chance after his divorce and began a new life as the town fire chief. He was drawn to his high school crush, Sabina, but she seemed uninterested in him, so he moved on. Instead, he started going out with her younger sister Lucy, who was much different than his ex-wife. Ross is wary of committing again, so his slow moving relationship with Lucy is fine with him.
Lucy has some serious control issues, dating from a fire in which she was badly scarred. She's enjoying her relationship with Ross, but she has a long checklist of requirements that must be met before they can get married. All of that goes out the window when local matchmaker Miriam Randall shows up at the store that she and her sister Sabina own.
Sabina is alone at the store when Miriam arrives and tells her that before she finds the love that is meant for her she has to get her sister settled. Her mother overhears this, and goes into matchmaking overdrive, facing down Ross and Lucy and telling them it's time to get moving so that Sabina can finally move on. Neither is up to withstanding Hurricane Henrietta, and soon find themselves looking at a rapidly approaching wedding.
Sabina has made it her mission in life to take care of Lucy ever since the fire that injured her so badly. Sabina feels guilty about what happened to Lucy, since she had been told to watch her sister that night while their parents were out. Instead, she left her thirteen year old sister home alone and snuck out to meet friends. Since that time, she has put her own life on hold to watch over her sister. She doesn't want Lucy and Ross guilted into rushing into marriage. She also has the deep, dark secret of the crush she had on Ross when they were in school, a crush that is still there.
I don't normally care for love triangle stories, but this was much more than that. Ross is the last chance fire chief who is dealing with an arson fire that appears to be eco-terrorism. This has brought the ATF and the FBI to town, creating even more complications in his life. Also returning to town is a man Sabina knew as an eighth grader, one who she treated badly. He has made good and come back to help his uncle, the developer who was the target of the arson. He shows a great deal of interest in Sabina, and pursues her. She initially accepts his advances as an apology for her treatment of him, and as a way to get past her feelings for Ross.
The wedding plans aren't going smoothly, as Lucy reacts badly to the loss of control of her decisions. Ross is doing his best, but coming up short in her opinion. In her efforts to help Ross and Lucy get married, Sabina finds herself in close quarters with Ross on several occasions. Their deeply buried feelings start to come closer to the surface and they end up in several awkward situations.
It's very obvious that Ross belongs with Sabina, not Lucy, but he is too honorable to break things off with Lucy. Meanwhile, Lucy discovers that it is much easier to spend time with one of the ATF agents than with Ross. Misunderstandings and interference from various well-meaning townspeople nearly bring a disastrous wedding day, before that confusion is straightened out.
There is also the ongoing mystery of the arson. The first fire is followed by a second one, one that injures Ross. Small town politics and ambitious federal agents put both Ross and Lucy in the crosshairs of the investigation. I loved seeing the support they both got from the people who know and care for them. The arson investigation ended up being more convoluted than anyone expected. The final confrontation was really intense, with a bad guy I suspected all along, though there was an unexpected revelation during that confrontation.
For the most part I liked Ross and Sabina. I did want to shake her a few times and tell her that she was going way overboard on the guilt about her sister. I loved seeing how perfect she was for Ross, and how much they had in common. She was wonderful with Ross's dog, and their work together on the house he bought was great. She fought her feelings for him because of his relationship with her sister, even though at heart she knew they weren't right for each other. Ross was a really sweet Southern guy. He'd been burned once before, so he's been fine with taking his relationship with Lucy slow. He treats her well, and has gone along with all her demands for their relationship, to the point you had to wonder if he had a backbone around her. I was glad to see it show up when he was given the dog and he stood up to her demands to get rid of it. Sparky was adorable and ended up saving ross's life. His slow realization that he was engaged to the wrong sister was hard for him to face. I loved those moments when their true feelings got the best of them. Uncomplicating their relationship at the end was interesting, and I loved seeing it happen.
For most of the book I really didn't like Lucy. I thought she was a spoiled brat who took advantage of her parents and Sabina. Her premarriage requirements should have been a clue to both her and ross that their relationship wasn't meant to be. I did like her interactions with the federal agent, some of which were pretty amusing. She did finally redeem herself at the end.