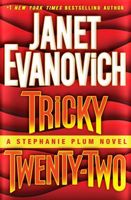 Series:
Stephanie Plum
(Book 22)
Something big is brewing in Trenton, N.J., and it could blow at any minute.
Stephanie Plum might not be the world's greatest bounty hunter, but she knows when she's being played. Ken Globovic (aka Gobbles), hailed as the Supreme Exalted Zookeeper of the animal house known as Zeta fraternity, has been arrested for beating up the dean of students at Kiltman College. Gobbles has missed his court date and gone into hiding. People have seen him on campus, but no one will talk. Things just aren't adding up, and Stephanie can't shake the feeling that something funny is going on at the college -- and it's not just Zeta fraternity pranks.
As much as people love Gobbles, they hate Doug Linken. When Linken is gunned down in his backyard it's good riddance, and the list of possible murder suspects is long. The only people who care about finding Linken's killer are Trenton cop Joe Morelli, who has been assigned the case, security expert Ranger, who was hired to protect Linken, and Stephanie, who has her eye on a cash prize and hopefully has some tricks up her sleeve.
Another fun Plum book. Stephanie and her sidekick Lula are assigned to bring in Ken Globovic, but finding him isn't easy. His frat brothers claim they haven't seen him, so Stephanie starts checking with other people around campus. The dean he's accused of attacking wants him found and blames the entire fraternity. The biology professor and frat adviser hasn't seen him, but something about him bugs Stephanie.
Stephanie also gets pulled into a Rangeman operation, helping to provide security for a contractor and his wife. The wife is a piece of work, and when her husband is killed there isn't much grief. There are a couple pretty funny scenes involving her at two funerals. Stephanie' on again/off again boyfriend Joe Morelli is the cop assigned to the investigation. Things get complicated when two more bodies show up, killed with the same gun, and have connections to the Zeta fraternity.
Stephanie and Joe's relationship becomes off again, when Joe is suffering physical symptoms of stress and he decides to cut out everything stress inducing from his life. One of those things is Stephanie. She's hurt and mad and worried about him, but avoiding him is impossible. With Morelli, off again usually doesn't last long and I enjoyed the process in this one.
The ever mysterious and super hot Ranger is also present. With Morelli out right now, will Stephanie give in to Ranger's advances? It's always fun to see Ranger's protectiveness toward her. As happens in most books, Ranger provides cars when she needs one and they are nearly always destroyed, sometimes in unusual ways. This time it's two cars, one involving geese and the other fireworks. There are also two pretty sweet scenes when he takes care of her. I love how he can convey so much with a simple "Babe".
The mystery in this one is pretty convoluted, and offers plenty of chances for Stephanie to get into trouble. I enjoyed her search for Globovic, and what happens when she finds him. His reasons for jumping bail lead Stephanie on another search, ending with a crazy professor, fireworks and fleas. The final confrontation in this one was pretty fun with Stephanie's grandmother, mother and Lula getting in on the action.