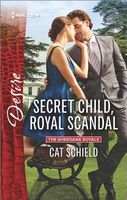 Series:
Sherdana Royals
(Book 3)
The prince must produce an heir. Little does he know, he already has…
Christian Alessandro lives life in the fast lane. But royal duty calls, and the bachelor prince must settle down and sire the future king of Sherdana. That's when a chance encounter with former flame Noelle Dubone yields a bombshell discovery: Christian's already a father! Marrying Noelle will make his boy the legitimate heir. It's a rocky reunion. The determined dressmaker refuses to fall in love -- or in bed! -- with Christian again, even as old, intense feelings return with a vengeance. But what the prince wants, the prince gets…
Very good conclusion to the series. In the first two books,
Royal Heirs Required
and
A Royal Baby Surprise
, the first two of the triplet princes find love, but leave the royal succession in doubt. That leaves Christian to find a bride and marry to provide an heir. As the youngest of the three, Christian has enjoyed his bachelor status and isn't too happy about ending it.
Enter Noelle, the woman he never forgot. Five years earlier they had been friends and lovers, until he broke it off. He has great memories of being able to talk to her about anything, plus the passion had been off the charts. He's determined to see her again, talk to her and get her help, and then see if they can pick up where they left off. When he arrives unannounced at her house, he finds a little boy that looks just like him!
Five years earlier, Noelle had been a young fashion designer, deeply in love with Christian. Though she knew nothing could come of it, that didn't stop her from dreaming. This made it especially heartbreaking when he suddenly ended their affair, making it clear she needed to move on. So when she discovered she was pregnant, she didn't tell him, and raised Marc on her own. Now that he knows the truth, she won't keep him from getting to know his son, but she refuses to cave in to his demands.
At the beginning, I thought that Christian was pretty selfish. Suddenly finding out that he already has a son means he doesn't have to go through the hassle of finding and courting a bride. All he has to do is marry Noelle and he's all set. An additional benefit would be having her back in his bed. I loved his stunned reaction when she doesn't just agree. Though it may be kind of mean of me, I also liked that he had to work at it to connect with Marc. I felt a little bit sorry for him, but he's had things too easy. It got better as I got to know him, and discovered why he had broken things off with Noelle, but his focus was still on his desires.
Noelle is determined to protect her son and herself. She's not too happy about the pressure that would be put on Marc as heir to the throne and would rather keep him out of it. And with the attraction that still burns between her and Christian, she feels it would be far too easy to fall in love with him again.
As Christian and Noelle spent time together, he finally started to realize just what his feelings for her were. Then he had to find a way to convince her of the truth. There was also an added complication of a change in her design business, which gave Christian the opportunity for some immersion time with Marc. I loved their time in New York and what it did to open their eyes to what they had together. The ending was really sweet and romantic as both of them let go of their fears.
There was also an interesting twist involving Gabriel and Olivia that may take some of the pressure off Christian and Noelle. I would like to see them appear in a later book to see what happens with them. Perhaps there will be a book for their sister?