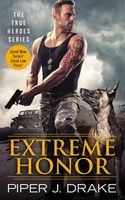 Series:
True Heroes
(Book 1)
HONOR, LOYALTY, LOVE
David Cruz is good at two things: war and training dogs. The ex-soldier's toughest case is Atlas, a Belgian Malinois whose handler died in combat. Nobody at Hope's Crossing kennel can break through the animal's grief. That is, until dog whisperer Evelyn Jones walks into the facility . . . and into Atlas's heart. David hates to admit that the curvy blonde's mesmerizing effect isn't limited to canines. But when Lyn's work with Atlas puts her in danger, David will do anything to protect her.
Lyn realizes that David's own battle scars make him uniquely qualified for his job as a trainer. Tough as nails yet gentle when it counts, he's gotten closer to Atlas than anyone else-and he's willing to put his hard-wired suspicion aside to let her do the same. But someone desperate enough to kill doesn't want Lyn working with Atlas. Now only teamwork, trust, and courage can save two troubled hearts and the dog who loves them both . . .
Very good book. It caught my interest from the beginning and I couldn't put it down until I was done. I really loved the setting of a place that trains and rehabilitates dogs. The romance between David and Lyn was great and the suspense was intriguing.
David and his friends started Hope's Crossing when each of them left the military. They love their work and it suits their post-war needs. David's biggest challenge right now is Atlas, a dog that he had trained. Atlas's handler had been a friend of David's and Calhoun's death has hit both David and Atlas hard. Atlas has lost interest in everything as he grieves his partner, until Lyn Jones arrives to work with him.
Lyn has made a career of helping dogs and owners. As a matter of fact, she prefers animals to people. When she read an article about Atlas, she was sure she could help him and did everything she could to get hired to work with him. Atlas walks right into her heart as soon as she meets him, increasing her determination to help him.
The initial meeting between David and Lyn was pretty rocky. David hadn't been told anything about an outsider coming to help with Atlas and isn't very happy about it. Lyn, having grown up with a military stepfather, feels that she has to establish herself immediately and comes across pretty bitchy. I liked that they overcame that first meeting quickly, once they both realized that Atlas's recovery is the important thing. I loved seeing them bond over their care for the dog. Also humming along between them is an intense attraction. David makes his interest known immediately, though Lyn starts out trying to keep things professional between them. I loved the way that David accepted it without pouting or trying to change her mind. He also didn't let it affect their working relationship. When Lyn was attacked, David's protectiveness kicked in. His rescue of her was exciting, but even better was his sensitivity to the aftermath. I loved his matter-of-fact support and understanding. It was fun to see how Lyn changed her mind about being with him, and her frustration when David refused to take advantage of her vulnerability. I loved seeing them grow closer as they worked with Atlas. I also loved Lyn's reaction to David's story about his family, a support that he had never experienced before. They ran into a rocky spot in their developing relationship at the end, but came through it well. I loved the respect and love they have for each other and how it showed in the way that Lyn stood up for her feelings at the end.
The suspense of the story was really good. From the beginning, David has suspected that there was more to his friend's death than was reported. When Lyn was attacked soon after arriving, and Atlas seems to be the motivating factor, David's suspicions increase. The evidence that he discovers raises more questions and puts him and Lyn in greater danger as they investigate what they have learned. There are several really intense confrontations that had me on the edge of my seat, wondering how they were going to get through them. The final confrontation was really exciting, with an interesting twist to it.
I loved the few glimpses of David's partners, Brandon and Alex. Both of them showed the same protectiveness and intensity as he did. I'm really looking forward to their stories. I also loved Atlas. His grief over the loss of his handler was obvious. I liked the little hint of interest he showed when Lyn appeared, and David's bit of jealousy over it. I also liked the fact that it wasn't an immediate healing, but a gradual process, which was much more realistic. I liked the bits of his personality that showed through, like when David was kissing Lyn. I also loved how he connected with Lyn and protected her.