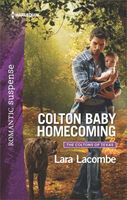 Series:
Coltons of Texas
(Book 3)
Someone has left a baby on the porch of search and rescue expert Ridge Colton's log cabin. Who? And why? A loner, Ridge knows nothing about caring for an infant. But when the woman who broke his heart years ago shows up to help, he's reminded of everything he once almost had.
From a wealthy family, Dr. Darcy Marrow was dissuaded from loving the man whose name meant one thing in town: shame. But with a dangerous thug trying to kidnap the baby, Ridge discovers how far he'll go to protect the little one, Darcy…and his long-guarded heart.
Very good book and continuation of the mystery of the Alphabet Killer, along with the mystery of an abandoned baby. Ridge and his dog Penny, a member of the local search and rescue group, came home from a call to find an abandoned infant on his porch. Worried first about the baby's condition, he takes her to the hospital to get checked out. There he encounters Dr. Darcy Marrow, his high school sweetheart, who had broken his heart all those years ago.
Darcy is filling in at her hometown hospital while she waits for her new job in New York to start. She is surprised to find Ridge in her ER, especially with a baby. The story of how he got the baby doesn't really surprise her though, as she remembers Ridge's quiet, protective nature when they were teens. She regrets the way she let her parents break them up. She feels sorry for Ridge and his cluelessness about the baby and sends him home with some supplies for her.
The attraction between Ridge and Darcy is still there, and both feel it, though both try to ignore it. Just seeing each other again brings back the memories of the good times and dreams that they shared. Darcy shows up at his cabin with more things for the baby and the intention of helping. When an intruder bursts in, intent on kidnapping the baby, they work together to fight him off. Darcy gets stranded there by a bad storm, and Ridge is determined to protect her and the baby.
Over the next few days, as they work together to take care of the baby and protect her from whoever is trying to kidnap her, Ridge and Darcy find their feelings for each other growing stronger. Ridge is reluctant to risk his heart again, especially knowing that Darcy is planning to leave again.
I liked Ridge a lot. He is the quiet one in the family, who coped with his family issues by pretending they didn't matter to him. He also worries that his father's "bad blood" could also come out in him. He is a loner, but also has a deep well of caring and compassion for others. This really comes out when he was taking care of the baby. I loved how quickly he bonded with her. There were several really sweet moments between the two of them. I also felt for him, as seeing Darcy again made him realize the things that he had given up, and that his life was lonelier without her. As his feelings for her grow, he has to decide if he's willing to try again. I also loved his dog, Penny. The bond between her and Ridge was great, and I loved seeing her interact with him.
I also liked Darcy. She has followed her dream of becoming a doctor. She also has family issues, dealing with parents who never seemed to care about her. Instead, they were more concerned about appearances, which was why they disapproved of her relationship with Ridge. Now that she's older, she is better able to stand up to them. I loved seeing the way she still believes in Ridge's goodness, and how she tries to convince him. It was sweet to see the way that seeing him with the baby melted her heart. As her feelings for him grow, she realizes more about what has driven some of the decisions she's made, and must choose what she wants for her future. There's an interesting twist with her parents at the end that helps her see what her dreams really are. The ending with Ridge and Darcy at the cabin is really sweet and romantic.
The suspense side of the story was great. The attacks on Ridge and Darcy, as the stranger tried to take the baby, were intense. The fights were realistic, as Ridge did not come away unscathed. Both were puzzled about why someone wanted to take her, and determined to protect her until her mother could be found. The truth behind it was something neither of them expected. I loved their compassion for the baby's mother. The final confrontation with the kidnapper was great, with Ridge once again being in the right place at the right time.
In a continuing story from the previous books, the Alphabet Killer is still on the loose. The killer strikes again, and we see it happen. The investigation turns up a little more information, helping the cops identify who it is. There is a connection to the Coltons' father, and more work on their part helps in the investigation.
It is also Ridge's turn to visit his father and receive the clue to where their mother's body is. Even though he is dying, Matthew Colton is still playing games with his family. Facing his father is another way for Ridge to put his past behind him.
I liked seeing Ridge with his family. They are all close and are there for support when needed. There is also a good amount of teasing among them, some enjoyed and some not so much. There is also another possible sighting of their missing sister Josie, this time by Ridge. I'm looking forward to seeing what her story is.