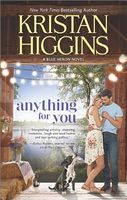 Series:
Blue Heron
(Book 5)
Before you get down on bended knee...
...you should be pretty darn sure the answer will be yes. For ten years, Connor O'Rourke has been waiting for Jessica Dunn to take their on-again, off-again relationship public, and he thinks the time has come. His restaurant is thriving, she's got her dream job at Blue Heron Vineyard--it's the perfect time to get married.
When he pops the question, however, her answer is a fond but firm no. If it ain't broke, why fix it? Jess has her hands full with her younger brother, who's now living with her full-time, and a great career after years of waitressing. What she and Connor have "is" perfect: friends with an excellent benefits package. Besides, with her difficult past (and reputation), she's positive married life isn't for her.
But this time, Connor says it's all or nothing. If she doesn't want to marry him, he'll find someone who does. Easier said than done, given that he's never loved anyone but her. And maybe Jessica isn't quite as sure as she thinks...
Good book. I've been waiting for Connor's story and I was so happy to finally get it. Connor is the chef and co-owner of his restaurant, and always seems so happy and carefree. At the beginning of the book, he is really nervous, because he is about to propose to Jessica. He's been in love with her since he was a kid, and they've had a relationship of sorts for ten years. It's been a secret one for various reasons but he's ready to share it with the world. Unfortunately for him, Jessica's not of the same mind. She likes things the way they are and sees no reason to change anything. This doesn't make Connor very happy because he wants more, and is ready to pursue it with her or someone else.
I loved Connor. Throughout the series I have enjoyed his teasing relationship with his sister Colleen. Their conversations, with the insults the throw back and forth, are always fun. There is always an undercurrent of love and support there, and it really showed when Colleen discovered that Jessica had turned him down. As a determined matchmaker, it was fun to see her setting him up with dates, and even more fun to be present at those date. His inner dialogue during them was hysterical. I also quickly suspected that she had an ulterior motive. Though he is a marvelous chef and restaurant owner, he also has some issues with confidence in himself. He tends to feel that he stumbles around when he's talking, especially when it's something important. We see his thought processes, but what comes out of his mouth never quite matches up. This creates some majorly awkward moments, such as his presentation to possible investors. He's also really sweet, and a scene with an old lady at a rest home is funny, sweet and adorable.
I had a little more trouble warming up to Jessica. I thought her response to Connor's proposal was pretty mean, and I really wanted to smack her. As the book went on and I learned more about her I did feel better about her by the end, but she's not one of my favorite heroines. Jessica's parents were alcoholics and from a very young age she was the responsible one in the family. When her little brother was born, he suffered from Fetal Alcohol Syndrome, and has many challenges because of it. She has always taken care of him, and he lives with her now. Davey has always been her first priority in her life, often to the detriment of other things. Because she has grown up being able to depend on no one but herself, she never asks for help from anyone. She has done things in the past that she isn't proud of but seemed necessary at the time. She has worked hard to improve her life, and now has her dream job at Blue Heron Winery.
Their relationship is a complicated one. Because of something that happened when they were kids, Davey hates Connor, making Jessica unwilling to have a public relationship with Connor. Every time Connor tries something to push them along, something happens that makes Jessica break things off with them, but they end up getting back together. After the proposal, Connor says he's had enough back and forth and they are through for good. Though he really tries, it doesn't last, and soon he's trying to figure out how to overcome her objections. Jessica has spent so long depending only on herself and protecting her brother, that she has trouble with even the idea of letting someone else in, even if that person is Connor. She cares about him, but she's really afraid of what could happen if she said yes to him.
Both Connor and Jessica have some growing to do in this book. Connor realizes that Davey will always be a part of Jessica's life and that if he is going to have a chance with her, he has to find a way to deal with her brother. I loved the way he finally learned just how complicated Davey's situation was. I loved seeing how he went about gaining Davey's trust. He may have made a few misteps along the way, but overall it was well done. Jessica has her own issues to face. Her guilt over her brother's condition has made her very protective of him, and she tends to go overboard with it. She has been so focused on him and his needs that she has ignored her own and pushed away the one person who can give her what she needs. I loved seeing her learn to let go a little. She also has to learn to let go of her past before she can fully embrace her future. I loved her big moment and the twist it put on the way things are usually done. The epilogue was fantastic, and the last line was the perfect cap to it.
Also in the book is the secondary storyline of Jessica's new coworker, Marcy. The woman is an irritation from the start. She seems intent on undermining Jessica every chance she gets, and Jessica starts to worry about her job. I was really hoping that Marcy would do something to get herself fired. I had a feeling about what she was doing and it was so satisfying to see that I was right. The scene where she gets found out was great, and the additional twist just added to it.
As always, I loved the inclusion of characters from previous books. In this one especially, I loved the parts with a very pregnant Colleen. She always has a wicked sense of humor, and it had even more zing now. I also loved the support that Jessica got from the various Hollands.