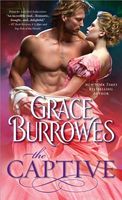 Series:
Captive Hearts
(Book 1)
He'll never be free...
Captured and tortured by the French, Christian Severn, Duke of Mercia, survives by vowing to take revenge on his tormentors. Before the duke can pursue his version of justice, Gillian, Countess of Greendale, reminds him that his small daughter has suffered much in his absence, and needs her papa desperately.
Until he surrenders his heart...
Gilly endured her difficult marriage by avoiding confrontation and keeping peace at any cost. Christian's devotion to his daughter and his kindness toward Gilly give her hope that she could enjoy a future with him, for surely he of all men shares her loathing for violence in any form. Little does Gilly know, the battle for Christian's heart is only beginning.
Good book, with a hero who is dealing with the Regency version of PTSD and a heroine who has a traumatic past of her own. The book opens with Christian as a prisoner of the French, being tortured and tormented in an attempt to get him to confess what he knows. Seeing what he went through made me ache for him, but also impressed me with the fortitude he showed in enduring it. He was determined to survive in order to take his revenge on them later. There was something a little odd about his treatment, and the memories of it carried throughout the book. When the war ended and he was released, he had to find his own way back to the British army. That arrival was not what he expected, and his treatment by his cousin was disturbing. I really liked Christian's dignified attitude as he attempts to prove his identity. I liked seeing Devlin St. Just again, and enjoyed his matter-of-fact treatment of Christian, both now and later in the book. Once Christian is back in London, he avoids contact with everyone, still attempting to deal with the physical and mental effects of his captivity. Everything changes when Gillian bursts into his life.
Gillian is recently widowed, ending her eight year marriage to a man three times her age, who was physically and mentally abusive to her. She was cousin to Christian's late wife and has been trying to watch over Christian's young daughter Lucy. Disturbed by the child's withdrawal and refusal to speak, Gilly confronts Christian, forcing him to see that he has a responsibility to Lucy. Her own past enables her to handle Christian with tact and sensibility for the most part, with a bit of steamroller tossed in when necessary.
I enjoyed seeing them get to know each other, as the two of them settled in to life at Severn, Christian's country estate. His return to health can be partially credited to Gilly, who doesn't fuss but makes sure that he has what he needs and is able to handle. I liked seeing how Christian reestablishes his bond with Lucy, and how their care for her helps bring him and Gilly closer together. Their friendship begins to grow into more, but there are some obstacles holding them back. Because of her marriage, Gilly is reluctant to put herself under the power of another man, even one such as Christian. There are also several accidents that happen to her, that Christian feels aren't actually accidents. This brings out a protectiveness in him that rubs up against Gilly's fears. On Christian's part, he feels that he really can't move on with his life until he deals with his past, which means following through on his vow of revenge. This is made somewhat more difficult by his knowledge that Gilly is against violence of any type.
There were some beautiful scenes between Gilly and Christian. I loved his patience and sensitivity as he learned more about what her marriage had been like. The part with the exposure of what she considers her biggest shame was especially moving. Gilly's way of helping Christian through his toughest moments was also beautifully realistic. I especially loved her tailoring efforts, and later her reaction to what Christian considered his worst scar.
The ending was great, as Lucy breaks her silence in time to reveal the truth about what had gone on during Christian's absence. Christian's confrontation with his tormentor yields satisfaction of a completely unexpected variety, and the truth of his captivity is exposed. I did suspect early on that this person was not what he seemed, and was happy to be proved right.
I loved the parts that Devlin St. Just played in the book. His early support of Christian, getting him safely to England from France, made the transition a bit easier. I also liked his visits to Christian, how he would listen to him without judging, dispensing practical advice. Some of the things he said made a huge difference to Christian's outlook. His presence at the end was also a big part of ensuring that all ended well.