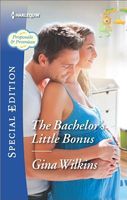 Series:
Proposals and Promises
(Book 3)
A baby and a bride!
You're cordially invited to celebrate
the wedding of
Stephanie McLane and Cole McKellar…
and the impending birth of their child!
Free spirit Stephanie -- aka Stevie -- never expected to wed her good friend and neighbor, number-crunching Cole. But then she never expected to be pregnant and alone. Cole's offer of a marriage of convenience is the perfect arrangement. He's a widower who wants a child, and her baby needs a daddy.
As Stevie's pregnancy hormones rage, Cole's got it all figured out. But the financial analyst has overlooked one detail: he is attracted to his wife -- and the wedding night isn't part of their baby bargain. In six months they'll be parents…but will they ever be a family?
Very good book about two very different people brought together by their desire to give her baby a family. Stevie, a free spirit who has always been attracted to artistic type men, finds herself pregnant by her latest boyfriend, and dumped because he's not interested in being a father. After confessing her fears of raising a child without a father, she is stunned when friend and neighbor Cole proposes marriage.
Cole is a numbers guy, happiest when behind a computer. He's also a widower who lost his wife five years earlier. He wants a family of his own, but the dating process isn't his thing. Becoming daddy to Stevie's baby is the perfect compromise.
I loved the two of them together. Stevie is so bubbly and outgoing, but also unsure about being able to give her baby the best life. She had grown up as the child of a single mother and always felt the lack of a father in her life. Cole is calm and steady, but also yearns for the chance to have the kind of family he dreams of. His childhood was marked by parents who didn't get along, and a father who didn't understand why Cole wasn't interested in the same things he was. Cole and Stevie had been friends for a year, with Cole burying the attraction he had felt for her because he knew he wasn't her type. From the very beginning they were able to talk to each other about anything.
I loved the growth of their relationship. The attraction between them gave them another connection that helped pull them closer together. Cole was really sweet with the way that he wanted to take care of her and was so understanding of her fears. He tried to take care of her without stepping on her need for independence. He knew that he was falling for her, but didn't think that she felt the same way. Stevie was a bit of a worrywart and was afraid that she had taken advantage of him. She worried that he was only being kind to her, and was still in love with his late wife, while she was falling in love with him. I loved seeing them settle in to life together and how fantastic it was. There were some terrific moments, such as the ultrasound when they learned the sex of the baby and it all became so real to Cole. I also loved seeing Stevie read Cole's father the riot act, as she tried to help fix the relationship between them. Both Cole and Stevie had some pretty deep insecurities to overcome, but a crisis with the pregnancy gave them the impetus to face those fears. I loved seeing them finally come fully together, and the epilogue wrapped it up nicely.
I also liked the scenes with Jen and Tess, her friends from
A Reunion and a Ring
and
The Boss's Marriage Plans
. I liked how her friends were worried about her and gave Cole a bit of a hard time, but eventually came to see how right they were together.