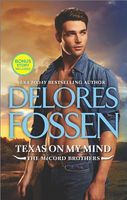 Series:
McCord Brothers
(Book 1)
The McCord Brothers are the most eligible bachelors in Spring Hill, Texas. But these cowboys are about to get wrangled by the love of some very unique women -- the kind who can melt hearts and lay it all on the line.
Air Force captain Riley McCord has come home on medical leave to find one heck of a welcome reception. Every unattached woman in Spring Hill, Texas, wants to nurse him back to health. That includes his childhood friend Claire Davidson -- the only person who understands how damaged he really feels. In high school, she chose his best friend over him. According to Riley's rules, that should make her off-limits forever. But when Claire suggests a no-strings fling, he can't refuse.
Claire always wanted Riley -- but she also craved the safety and stability he couldn't offer. So she chose another path, only to end up crazier about him than ever. She's even convinced herself that this time she won't be devastated when he leaves. Yet once Riley realizes the depth of Claire's feelings -- and his own -- he'll have to make the ultimate choice: return to the job he loves or stay home for the woman who's always lived in his heart.
Good second chance/friends to lovers story. Riley has come home to Spring Hill to recover from injuries received in the war. He just wants peace and quiet to do so, but discovers that every single woman in town is determined to be the one to help him. The only one whose attention he wants, Claire, is his childhood friend, but she chose his best friend, making her off limits to him. However, there is a spark between them that cannot be denied.
Claire has always had a thing for Riley, but he was determined to put Spring Hill behind him and do something more with his life. Thanks to her somewhat turbulent childhood, she only wants to have a permanent home with a husband that is there for her. So she picked their friend Daniel as the one more likely to give her what she needed. But when it comes to her final choice, will her heart or her head take the day?
I liked Riley a lot, even though he was a bit stubborn about his "man rules". His calling was to help people, and he did that by becoming a combat rescue officer. His most recent mission ended up with him badly injured, as well as haunted by some of the things that happened. He is on medical leave, where he has a certain amount of time to get back to full strength, or risk losing the career that defines him. He wants Claire, but his rules put her out of reach, so he tries to keep things in the friend zone.
I liked Claire too, although she occasionally frustrated me. She is back in Spring Hill with her two year old son, to clear out her late grandmother's house and get it ready to sell. Her relationship with Daniel has been on-again, off-again, and he is currently pushing for her to marry him. Seeing Riley again brings back all her old feelings and creates a conflict for her. She wants Riley, but knows he'll be leaving again, whereas Daniel offers her the stability she craves.
I really liked the development of their relationship. Because they've known each other so long, they are aware of each other's baggage. I loved seeing how Claire was so tuned in to Riley's struggles, especially his flashbacks. She always seemed to know just what to do to bring him out of them. Riley knows all about Claire's childhood, and is there for her as she faces some of her demons while she clears her grandmother's house. It was great to see that having Riley there gave Claire some of the strength she needed to deal with Daniel. Claire decided it was time to go after what she wanted from Riley, even if she was sure that she was going to end up hurting at the end. It took a little effort to overcome Riley's objections, but eventually he gave in to his own desires. This brought them closer, though both try to deny their true feelings. I loved Riley's surprise when he finally realized what was happening between them. The ending was sweet and romantic with a touch of humor thanks to Claire's son.
I loved Claire's son Ethan. He was adorable, and pretty typical of his age. I really liked the way he took to Riley, and found it funny that it just fed the town gossip mill. It was very telling to see the differences in the way he reacted to both Riley and Daniel. I loved the potty training scenes, and Riley's solution.
The relationship between Riley and Claire was complicated by three people - Daniel, Trisha and Jodi. I especially disliked Daniel. He was very close to being a bully in my opinion, in the way he treated Ethan and refused to take no for an answer from Claire. Trisha was one of the women who was trying to snag Riley for herself. Her interference in Claire's and Riley's lives seemed intent on making trouble between them. Jodi was a woman that Riley had had a kind of relationship with. Her appearance in Spring Hill came at a really bad time. She, too, had some issues letting go. It was funny to see what happened when the three of them came together.
I also enjoyed getting to know both Logan and Lucky a little better. Lucky is the wild brother, who travels the rodeo circuit and is a ladies man. I liked the way that Lucky was there for Riley during his visits to the base. It was interesting to see the relationship between him and his twin brother Logan. Logan is the oldest and the one that took over the family business and has made it successful. It's obvious that he really wants both Lucky and Riley back home, but doesn't know how to fix their relationships and make it happen. It will be interesting to read their stories and see what drives them.