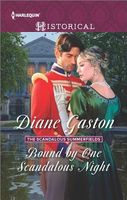 Series:
Scandalous Summerfields
(Book 2)
Marrying a stranger
On the eve of battle, Lieutenant Edmund Summerfield rescues mysterious Amelie Glenville from attack by marauding soldiers. Heady from the anticipation and uncertainty in the air, they spend the night together, but their scandalous actions have one inescapable consequence…!
The illegitimate son of an aristocrat, Edmund won't consign his unborn child to the same fate, so he offers Amelie marriage. With a honeymoon spent weathering a storm of scandal, can these two strangers hope to turn their convenient marriage into something real?
Good book about two people with scandal in their backgrounds who come together in a scandal of their own. The night before the battle of Waterloo, Edmund rescues Amelie from an attack. She is his half-sister's sister-in-law, one he has been drawn to but feels is too far above him. The emotions of the night overpower their common sense and they give in to the attraction they feel. Three months later, Edmund discovers that Amelie is carrying his child and insists on marrying her.
Amelie had been engaged to another man, but after an argument, he abandoned her on the crowd filled street. She had offered him physical comfort before heading off to battle and instead he had said terrible things to her. Now Amelie is convinced that she will never marry, that no one will want her for herself. The desire between her and Edmund gives her what she believes will be her only chance to know what it would be like.
I liked Edmund and Amelie together. They had some serious obstacles to overcome, individually and together. Edmund is an honorable man. He had tried hard to resist Amelie's advances back in Brussels because he knew it wasn't right. When faced with her pregnancy, he was determined to do the right thing. He knew what it was like to be illegitimate and didn't want his own child to suffer the same way. Because of his background, he feels unworthy of her. He also has to fight her family's opinion of him. I ached for him every time he had to suffer through their rudeness. I loved his determination to show them that he can take care of Amelie.
Amelie had her own issues to fight through. She sees the love that her parents have for each other and wants the same for herself. She thought she had found it, and was devastated by the things her ex-fiance told her. She takes what he says to heart and believes that she is wicked and wanton for it. When Edmund proposes marriage, she blames herself for trapping him into something he doesn't want.
When she loses the baby, both she and Edmund blame themselves. Each one's guilt is so deep that they can't even speak of it. All Edmund wants to do is to make sure that he takes care of Amelie and that he provides her with what she wants. I loved his devotion to her while she was recovering, even in the face of her family's attitude. Amelie is sure that Edmund wishes he weren't trapped in marriage, and is determined to put a brave face on everything in order to make things easier on him. I liked the fact that they talked enough to agree that getting away from London was the best thing to do.
Once they arrived at the farm, they finally began to regain some of their closeness. The life there was so different than what they were used to that it really was a new beginning. I really enjoyed seeing them both take to life in the country. Their relationship still had its ups and downs because they were avoiding talking about the hard things. There was a truly emotional scene when they finally talked about the loss of the baby. A discovery about some possibly shady doings on the farm, and a visit from Amelie's father brought about an unexpected result. I loved seeing Edmund face down her father and show Amelie just how much he really cares.
The secondary characters in this book all had important parts to play. Marc and Tess, from
Bound by Duty
, were somewhat less likable in this one. I was really mad at Tess for her lack of belief in and support for her brother, and Marc's prejudice against him was disappointing. I did like his sister Genna's immediate acceptance of Amelie and the friendship she offered. The oldest sister's husband, Lord Tinmore, was a truly nasty piece of work. I hated his attitude toward the family, especially Edmund, and I loved seeing Edmund shut him down. I was also very disappointed in Amelie's parents. For people who had stood up to scandal of their own, their treatment of Edmund was especially bad. My favorite character was Amelie's maid, Sally. I loved her parallel with Amelie, and the way that they supported each other.
I'm really looking forward to the next book in the series.