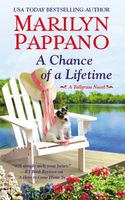 Series:
Tallgrass
(Book 5)
Sometimes love finds you when you least expect it . . .
To Benita Ford, Tallgrass, Oklahoma, will always be home. It's where her beloved grandmother raised her and where she rode bikes with her two best friends-the man who became her husband and Calvin. And Tallgrass is where she stayed, even after her husband died while serving his country. Now Calvin is home from that same war, and the sensitive, mischievous boy she once knew is today a man scarred by wounds no one else can see. Falling in love with him is something Bennie never imagined.
Tallgrass still haunts Captain Calvin Sweet. Yet it's where he must go to see Bennie-the one woman he always loved but could never have. Calvin regrets so much about what happened years ago. Still he can't deny being with Bennie makes his future feel bright, like anything is possible. But the demons of his past won't be quieted that easily. As old hurts linger, threatening to pull them apart, Calvin and Bennie must take the ultimate risk for the love of a lifetime . . .
This was a terrific romance with a deeply emotional side to it. Benita, J'Myel, and Calvin grew up together in Tallgrass, three friends who went through the good and the bad together. J'Myel and Calvin enlisted in the Army together, promising to always have each other's backs. But multiple deployments brought changes to them both, including J'Myel's marriage to Benita. Then J'Myel and Calvin grew apart, destroying the link among the three, ending in J'Myel's death. Now Calvin is back in Tallgrass, lost and hurting.
How I ached for Calvin. The things that he saw and did, then the loss of his two best friends, left him feeling alone and hopeless. Combined with his PTSD, he attempted to take the only way out that he could see. Fortunately for him, he was stopped by a teenaged thief, which then got him the help he needed. But now Calvin has to face the loss of his army career and the feelings of shame over what he tried to do. Being back home in Tallgrass is both good and bad. Good because his family and friends are there to give him the support he needs, but bad because the good memories only emphasize what he feels that he has lost.
Bennie has spent her entire life in Tallgrass. It is home and she has no desire to leave. She has moved on pretty well from the death of her husband, though she still feels the loss of the life they could have had. She doesn't know what happened between him and Calvin, but she regrets that it ended her lifelong friendship with him. She knows he's coming back, and with the close relationships between their families, she knows that she will be seeing him again. She hopes to finally find out what went wrong.
I really loved seeing the relationship develop between Bennie and Calvin. She has become stronger and more independent since J'Myel's death. I liked seeing her ask Calvin straight out what had caused the rift, and that she was able to deal with the answer. I loved that she knows Calvin well enough to see that he has changed, even if she doesn't know what has caused the changes. I really liked seeing her try to draw him back into life in Tallgrass without making light of the pain that she can see in his eyes. For Calvin, it is a very slow process. He knows that his family is aware of what he did, and facing them is hard. Being around Bennie starts to bring a little light back into his life. He's always had feelings for her, but she was J'Myel's girl, then wife. Just because he's gone, doesn't mean that it would be right to move on those feelings, but how can he not.
I enjoyed Bennie's slow awakening to the way that her feelings for Calvin are changing from friendship to something more. Once she accepted those feelings she was ready to move forward with them, but found that there was something that was still holding Calvin back. I loved her patience and understanding as she told him that she would wait until he was ready. But her own nature also was evident when she told him that she'd only wait for so long before she would start pushing him. I really liked the way that Calvin was able to talk to one of the guys about what had happened with him. The way that he was listened to and not judged made it easier for Calvin to believe that he could move past it. I also liked the advice he got, that if he wanted a relationship with Bennie he was going to have to tell her everything.
The most moving and realistic part of the book was when he did just that. His nervousness and vulnerability were real and believable, as he opened up to Bennie and confessed all. I also liked her reaction of guilt that she hadn't recognized just how much he was hurting. It was something that was very realistic to me, as was her need to process what she had learned. Her talk with the hospital chaplain was an eye opener for her. I loved her big scene at the end as she showed Calvin just how deep her feelings were.
There was also a secondary romance running with Joe and Lucy. I liked seeing his patience finally pay off as Lucy reached the point of being able to accept his attentions. It was really sweet to see the way he took care of her, especially after what happened to her. Lucy had some self-esteem issues because of her weight. I liked that Joe didn't ignore them, but helped her deal with them.
I really enjoyed the importance of family and friends in this book. Calvin has come home to his family, who want to help and support him but are unsure how to do it. I loved his grandmother and Bennie's, who were best friends and pretty feisty old ladies. Neither had any trouble speaking their minds and frequently provided some excellent guidance. I also enjoyed seeing the arrival of Diez, the boy who had stopped Calvin's suicide attempt. It was really sweet to see the way that Calvin's family took him in and gave him something he'd never had - a real sense of love and family. It will be interesting to see more of him in later books. I also loved the Margarita Ladies group and how they were always there for each other.