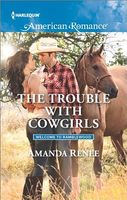 Series:
Welcome to Ramblewood
(Book 7)
THE COWBOY SHE LEFT BEHIND
Seeing the love of his life after ten years is a shock for Lane Morgan. Especially when he learns the Italian-born beauty who broke his teenage heart is now a widowed single mother. And she's the new barn manager at Bridle Dance Ranch -- a job that should have been his.
Lucy Travisonno never dreamed she'd return to the Texas horse ranch where she and Lane fell in love -- much less as his boss! The spark between them is stronger than ever. But there's something Lane doesn't know… If she reveals her long-held secret, will Lucy lose her second chance with the handsome cowboy?
Good second chance romance. Lane and Lucy had known each other as teenagers, when she used to spend summers with her cousin on the ranch. They had been in love and planning to marry after she finished school. Then she returned to Italy without a word, and he never heard from her again. Now she's back at the ranch, along with her daughter, and has been given the job that he wanted.
I have to say right off that I didn't like Lucy's cousin Nicolino. He displayed the worst kind of nepotism by giving Lucy a job that she really wasn't qualified for. And the way he treated Lane was inexcusable. Lane had been trained for the barn manager job by the previous manager and to find out that he'd been skunked out of the job the way he did was awful. He was rightfully angry and I wouldn't have blamed him if he had done his best to undermine Lucy. But he really was a good man and couldn't do that to her.
Lucy had come back to the ranch for a new start in life. Her ex-husband had died deeply in debt, leaving Lucy and her daughter Carina virtually penniless. When her cousin offered her the job, she was happy to take it, though she never expected Lane to be there. Finding out that he had expected the job to be his added to the stress she was already under. She struggled to give Carina the attention she needed while also doing her job.
It was obvious to both of them that the old feelings were still there, but working together made doing anything about it unwise. Plus, neither one really wanted to risk their hearts again. Having to work together gave them a chance to get to know each other again, which put a strain on their determination to keep apart. Lane was pretty quick to admit to himself that he still cared. That caring showed itself in the way that he was covering parts of her job because he could see how overwhelmed she was. He also got involved with Lucy's daughter, helping her to adjust to the changes in her life. Spending time with both Lucy and Carina made him long to make it more. Lucy also knew that she still cared for Lane, but there were things from her past that he didn't know and she was afraid of his reaction if he found out. I liked the realism of what happened when he did, and that they dealt in a pretty reasonable way. The ending was really sweet. I liked Lane's big moment with Lucy and later how he made Carina a big part of it also.