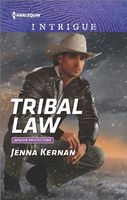 Series:
Apache Protectors
(Book 3)
Only the warrior from her past could save her now…
Tribal police chief Gabe Cosen would do anything to protect his people and their reservation. This sheer dedication to the law had even cost him his fiancée. Selena Dosela had never forgiven him for sending her father to prison. But with trouble back on her doorstep, Gabe vowed to keep her safe.
Only extreme fear for her family would allow Selena to accept Gabe's help. Despite all they had been through, Selena knew she could trust him with the lives of those she loved. The lawman would never break his word…but if she wasn't careful, he might break her heart again.
Very good suspense and terrific second chance love story. Gabe is the tribal chief of police and dedicated to his job, to the point where it consumes his life. Five years earlier it had cost him his fiancee, when he arrested her father. She returned his ring and has barely spoken to him since. Now she and her family are in trouble, and Gabe is the only one she trusts to keep them safe.
Selena's father has just been released from being in prison for drug trafficking. During that time, Selena has been running the family trucking business and doing a great job of it. She soon discovers that her father is going right back down the same road, and this time he's dragging her with him. If she doesn't cooperate, the drug cartel will harm the rest of the family.
A run in with Gabe puts him on alert, as she is behaving strangely. The first drug run that she is forced into goes bad, with some intense danger and a couple of surprising twists. The more that Gabe learns about what is happening, the more determined he is to keep Selena safe.
The rekindling of their relationship was very interesting. It was obvious from the beginning that the attraction was still there, but their past history made them both wary. Gabe can't seem to get past the fact that Selena had returned his ring, without any real explanation, leaving him to believe that she couldn't forgive him for arresting her father. Selena is still hurt that he took the ring back, without any attempt to convince her to stay with him, fueling her own insecurities.
I got a little frustrated with both of them because they didn't talk to each other about their feelings, just assuming the other knew what they were. I also felt that Gabe could be a bit on the judgmental side. Gabe is so conscious of his reputation as police chief that it dictates all his actions. I loved his stunned surprise when Selena told him exactly how he had acted and how it made her feel. It was a real eye opener for him and not a pleasant one. It was great to see him looking at himself through her eyes. Selena has a few issues of her own, not the least is believing that everyone looks down on her because of her father. I really loved seeing the changes they went through as the book went on. I really liked the ending, with Gabe's big moment being sweet, romantic with a bit of humor added for good measure.
The suspense of the story was great. Everything moved along quickly, keeping me wondering what was going to happen next. After the twist in the beginning of the book, the focus was on tracking down the drug supplies and who was responsible. Things got really intense when a surprise player turned up and pulled Selena back into the middle of a dangerous situation. It was really interesting to see the interactions between the tribal law enforcement and the feds, especially Gabe's uncle's partner, Cassidy Walker. She did not make the best of impressions. I especially loved Gabe's thought that "The cavalry was coming, but just like always, it was the Apache scouts who would be there first". The final confrontation was chaotic with some very worrisome results, along with one thread left hanging. I expect that one will be tied up in the next book.
Family is an important theme in the book. Selena and how much she cares for her family is a big part of who she is. I also loved Gabe's relationship with his grandmother, who was pretty good at calling him out on his mistakes. Also included in this book is more information on the Cosen's missing little sister. She has been located, with them discovering that she was adopted by a white family. The identity of her adoptive mother is an interesting complication and I look forward to seeing how it all works out.