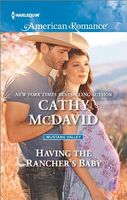 Series:
Mustang Valley
(Book 7)
SETTLE DOWN, COWBOY!
His family's Arizona cattle ranch is just the place for Cole Dempsey to hang his hat before he heads back to the rodeo circuit. That is, until Violet Hathaway makes Cole think twice about his future when the livestock manager delivers her game-changing news: she's pregnant!
One passionate mistake could cost Vi her job at Dos Estrellas. And whatever growing feelings Cole and Violet have for each other, she knows the professional cowboy hadn't planned on settling down in Mustang Valley. When he hits the road again, he'll take her dream of them making a life together. Or is a rancher's legacy about to come full circle?
Good book. Cole is the brother who has had no intention of settling down. Inheriting a share of his estranged father's ranch has brought him there, but he's been counting the weeks until his two brothers can buy him out and he can return to the rodeo circuit. Then ranch foreman Violet gives him her life-changing news: she's pregnant and he's the father.
I liked Cole, though he certainly had his moments of cluelessness. He and his brother Josh had been taken away from their father and the ranch when their mother divorced their father. He grew up on his grandparents' ranch, listening to his mother's bitter rants about his father, and wondering why his father hadn't fought to keep them. He hadn't been at all happy about having to go to the ranch in Arizona and can't wait to leave. I found it interesting that, as much as he complains about the place, he still stepped up to do his part to keep it running. He also spends time training the horses from the mustang rescue that his future sister-in-law runs. Vi's news hits him right in his insecurities, as his example for a father wasn't a good one. He's determined to do his best, but is afraid that he'll screw it up. He wants to take care of Vi and the baby, but feels that he has nothing to offer. His only way of making the money needed to support them is by going back to the rodeo circuit, but Violet has made it clear that she wants him to stay in Mustang Valley.
Violet is an independent woman, used to taking care of herself. She had been married before, but the marriage fell apart when she and her husband couldn't deal with the fallout from three miscarriages. Now she's pregnant with a baby she really wants, afraid that she'll lose it too, and worried that she'll lose her job on top of it. I liked the way that she told Cole, without playing any games or trying to manipulate him. She wants Cole in her life, but knows he has no plans to stay in Mustang Valley. Giving her heart to him is a sure way to get it broken, but she can't deny her feelings for him.
I really enjoyed the developing relationship between Cole and Vi. There had been sparks between them from the time Cole arrived on the ranch, but neither was willing to cross the boss/employee line. Then one night of unexpected passion left them dealing with the consequences. I loved the way that Cole was immediately willing to step up and accept responsibility, but also went beyond that. He was pretty sweet in his protectiveness, as he tried everything he could to relieve her stress. As they spend time together actually getting to know each other, the feelings of attraction grow into more. Cole is torn because he wants to stay on the ranch and be with Vi, but if he does, he has no way to support them. But returning to the rodeo circuit holds even less appeal. Until he can figure it out, all he can do is be there for her. I loved seeing the way that he took care of her and supported her as she dealt with her parents. I really enjoyed seeing him stand up to them without confrontation. Vi acknowledges her feelings more quickly, but doesn't know what his are and is afraid to ask. She doesn't want to drive him away by asking for more than he is willing to give. I liked the way that she understood his feelings about his father, but also tried to show him the good side that he didn't know about. When Cole was given the chance to do what he'd been dreaming about, he had to look deep inside to see if that was what he still wanted or if his dreams had changed, then decide if he had the courage to go after it. Violet also had to let go of her fears if she wanted a chance to have everything she dreamed of. I loved their big moment at the end when they finally opened up with all their feelings.
The family dynamics were also really interesting. I liked the way that Gabe, Josh and Cole had earned each other's respect and that they became a good team for running the ranch. Vi's parents were a real piece of work. I completely understood her need to get away from them and the way they used her to get at each other. Cole's mother was also a selfish woman and her attempts to get Cole and Josh back to California were pretty obnoxious. The big family dinner was so horrible that it was almost funny as the three of them pursued their own agendas with absolutely no consideration for anyone else's feeling. I loved seeing them all get shut down.