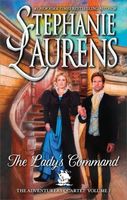 Series:
Adventurer's Quartet
(Book 1)
How does marriage work? If convention is set aside and is no longer there to guide...what then?
The instant Captain Declan Frobisher laid eyes on Lady Edwina Delbraith, he knew she was the lady he wanted as his wife. The scion of a seafaring dynasty accustomed to success, he discovered that wooing Edwina was surprisingly straightforward -- not least because she made it plain that she wanted him as much as he wanted her.
Declan's vision of marriage was of a gently-reared wife to grace his arm, to manage his household, and to bear his children. He assumed that household, children, and wife would remain safely in England while he continued his life as an explorer sailing the high seas.
Declan got his wish -- up to a point. He and Edwina were wed. As for the rest -- his vision of marriage…
Aunt of the young Duke of Ridgware and sister of the mysterious man known as Neville Roscoe, London's gambling king, even before the knot was tied Edwina shattered the illusion that her character is as delicate, ethereal, and fragile as her appearance suggests. Far from adhering to orthodox mores, she and her ducal family are even more unconventional than the Frobishers.
Beneath her fairy-princess exterior, Edwina possesses a spine of steel -- one that might bend, but will never break. Born to the purple -- born to rule -- she's determined to rule her life. With Declan's ring on her finger, that means forging a marriage that meets her needs as well as his.
But bare weeks into their honeymoon, Declan is required to sail to West Africa. Edwina decides she must accompany him.
A secret mission with unknown villains flings unexpected dangers into their path as Declan and Edwina discover that meeting the challenge of making an unconventional marriage work requires something they both possess -- bold and adventurous hearts.
Good book, though rather different than the majority of Stephanie Laurens's books. As the book opens, Declan and Edwina are already married and quite happy with their marriage, though it is apparent that there is some difference of opinion of what makes a strong marriage. Declan looks at marriage in the more traditional sense, with Edwina remaining at home when he has to go to sea. Edwina has grown up in a family where the women are fully integrated partners in their marriages and is determined to have the same.
I really enjoyed seeing how happy they are together right from the beginning. It was also interesting to see how, once they were married, Declan began to see a different side of Edwina. Because they were on their honeymoon, Declan's business ventures are on hold, so their time together has little stress. Edwina is able to ease her way into Declan's personal life, showing him the benefits of her experience in society and how it can affect his own life. While she is aware of his business as a ship's captain, and intends to be a part of that life too, she doesn't know about the occasional secret missions he undertakes for the Crown.
When their honeymoon is interrupted by an urgent need for Declan to go to Africa, his intent is to leave Edwina at home where it is safe. He can't tell her the truth behind the trip, which leaves them at odds over his refusal to take her along. I loved Edwina's realization that nagging isn't going to get her what she wants, so she has to be less direct. I loved her method of ensuring that she is included. It was clever and effective. Declan's reaction was not surprising, and it was fun to see Edwina let him rant on until he ran out of steam, and then point out the benefits of having her along. Once he confessed the real reason behind the trip, it was great to see them work out the best way to take advantage of her presence. I liked the fact that Declan didn't hold a grudge over being fooled and quickly saw her usefulness.
I really liked the growth of their relationship. Now that they are married and thrown together in unusual circumstances, they are given the opportunity to get to know each other in deeper ways. I really loved seeing Declan experience all the different facets of Edwina's personality. His appreciation for her abilities continued to grow and began to open his eyes to the benefits of a true partnership. I also liked seeing how Edwina learned more about what made Declan the man he is. It was fun to see Declan's idea of marriage change as he experiences Edwina's version of what makes the best kind of partnership. I especially enjoyed the ending, as Edwina is shown as a full partner when they meet again with Wolverstone.
The mystery picked up once they arrived in Sierra Leone. With instructions to find out what they can about the missing men, but to NOT pursue what they learn, Declan and Edwina have to be careful not to give away their interest. I really enjoyed the way that it was Edwina that was able to discover that it was more than just the four men missing, that there are also women and children that have disappeared. Each bit of information they pick up adds to an increasingly disturbing bigger picture, but they need some more concrete information before they can return to London. An attack on them shows they are on the right track, but still missing vital proof. That proof comes from an unexpected source, putting Edwina in far more danger than they had expected. Fortunately Declan is able to manage her rescue and they have the proof they need.
I loved encountering Wolverstone/Dalziel again, and seeing that he still has his hands in the business of the security of England. His determination that this problem not turn into another Black Cobra disaster was a nice tie in to the previous series. I liked his focus on the bigger picture, as he orchestrates the next step in the search for the truth. I'm looking forward to the rest of the series.