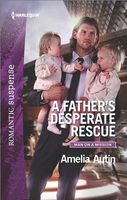 Series:
Man on a Mission
(Book 7)
Widower Dirk DeWinter is a screen legend, but his favorite role is caring for his twin toddlers. So when his daughters are kidnapped while he's on location in Hong Kong, the desperate dad enlists the help of private investigator Mei-li Moore to track them down. But digging up secrets from Dirk's past unleashes something more potent -- and dangerous -- than either of them ever expected.
Mei-li knows Dirk is off-limits, both professionally and emotionally, yet she still can't help but fall for the doting father. As their mission threatens to unravel, will they risk their hearts and lives to save the twins -- and each other?
Fantastic book. By the end of
King's Ransom
I really wanted to see Dirk, a secondary character, get his own story. He was the actor playing opposite the heroine, Juliana, and a very good friend to her. At the end of the book, his beloved wife died after giving birth to twin girls. His devastation was heartbreaking and I really wanted to see him happy again.
This book begins two years later. Dirk is in Hong Kong filming a new movie. His daughters have traveled with him, along with their nanny and bodyguards. He arrives back at their hotel suite to find the nanny and a bodyguard bound and gagged and the girls missing. It turned out that Mei-li Moore, daughter of his producer/director, is a private investigator and hostage negotiator and is called in to help Dirk find his girls.
I really liked Dirk. In both the previous book and this one, it was obvious that he was a good and honorable man. He had loved his wife and adored his daughters. He isn't the conceited jerk that so many actors are, but a very down-to-earth man. However, he is suffering from a boatload of guilty feelings. He blames himself for not protecting them better, especially when he discovers it's someone from his past trying to exact revenge. Many years before, Dirk had killed a man who had assaulted his girlfriend (later his wife). He also believes that his wife's death is punishment for what happened. For the most part, he is able to keep a level head while dealing with the kidnappers, though he does have the occasional lapse. I loved the way that he had complete confidence in Mei-li and her ability to find his girls.
Mei-li was fantastic. A beautiful woman, she is also intelligent and independent, and very good at what she does. I loved the way that she came in and took charge without being abrasive about it. It isn't too far into the story that we discover the very personal reason she became a hostage negotiator and private investigator. Having lost her fiance to a kidnapping and ransom gone wrong, she prides herself on doing whatever necessary to ensure a successful outcome. What she hasn't done is to move on from his death and open herself up to risking her heart again.
I loved the relationship that developed between Dirk and Mei-li. Though it was first and foremost a professional one, neither could deny the sparks that flew between them. One of my favorite things was that at no time did those sparks interfere with their goal, nor did they give in to them at inappropriate times. As they worked together to fulfill the kidnappers' demands, they also learned about each other, developing a trust that allowed them to share things they'd never told anyone else. Because of her own experiences, Mei-li was well aware of the pain Dirk was suffering, and I loved the way that she was determined to help him heal. It was even more moving because she had no idea if her feelings were returned, and knew that she could be setting herself up for heartbreak. Dirk had to allow himself to let go of his grief for his wife before he could contemplate a future with Mei-li. I loved his honesty when talking to Mei-li about those feelings. I especially loved his patience at the end, as he agreed to her conditions and her nervousness and vulnerability when those conditions were over. It was especially sweet to see how Dirk tries to think of every possible obstacle and find a way to overcome it.
The suspense of the story was great, starting from the very beginning. It opens from the bad guy's point of view, letting us know right away what his motivation was, as well as a glimpse of his intentions. From the moment the girls are taken, the action is almost constant. While Dirk and Mei-li are rarely in any physical danger, the mental and emotional turmoil is constant. They realize very quickly that there may be someone on the inside working against them, causing them to be able to completely trust only each other. There was enough doubt about each suspect that I never got a definite feel for who it was until the end, though there were a couple that I was pretty sure were innocent. I loved Mei-li's intensity and how it worked for them. Though there was some holding back on her part at the beginning, until she was certain of Dirk's commitment, once she was, their teamwork was outstanding. With each bit of information they uncovered, I could feel them getting closer to success, but it was still touch and go. I was intrigued by the assistance that Mei-li was receiving, and suspected the identity of that helper. As the deadline grew closer, the intensity increased. I loved the final confrontation and how satisfying it was to see Dirk and Mei-li be a part of it. I loved seeing all the bad guys get what was coming to them.
One of the greatest characters of the book was Hong Kong itself. The descriptions of the city, from the sights to the smells to the weather were so vivid that I felt as though I was there. The descriptions of the places where the ransom drops were made were so fascinating that I was compelled to look them up and see what they looked like, making the book even more realistic to me.
There were also two secondary characters that I really liked. Rafe, the bodyguard, who was also a retired Marine. He obviously loved the two little girls and his determination to help find them was awesome. I was also fascinated by what little I saw of Mei-li's brother Jason. I suspect that he has had a very interesting life and I would love to see him in his own book!

*copy received in exchanged for honest review.